Dirs: Tizza Covi, Rainer Frimmel. Austria. 2012. 90mins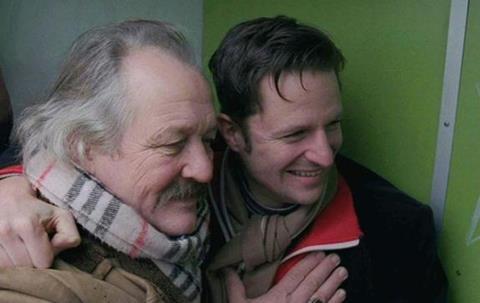 An intriguing and rather enjoyable collision of two generations – and acting styles – makes Austrian film The Shine Of Day (Der Glanz des Tages) and surprisingly watchable film, that, while it offers little original and drifts away to a vague conclusion, could well be of interest on the festival circuit.
The relationship between Walter and Philipp veers between father-and-son and bickering friends.
The film, which had its world premiere at the Locarno Film Festival, is driven by the powerful central performance of Philipp Hochmair and Walter Saabel whose own very different personalities are given full reign as they slot into the script by Tizza Covi, Rainer Frimmel and Xavier Bayer, itself aimed as a vehicle and prom[t for their talents.
The film opens with Philipp (Hochmair - the characters have the same names as the characters), a successful young actor in Hamburg where is appearing in a performance of Woyzcek, bemused and surprised when elderly Walter (Saabel) arrives on his doorstep, telling him that his is his father's step-brother.
Walter tells Philipp about his life working in the circus as a bear wrestler and knife thrower (which Saabel did in real life, and currently works with an Italian circus), while Philipp is full of his busy acting career (he actually lives in Vienna, and is working on several productions simultaneously). The two slowly get to know each other, with Walter helping in Philipp's script reciting while also wandering the city.
Walter follows Philipp to Vienna and ends up living in his flat and – in an odd sideways move – helping out babysitting the two young children of Victor (Vitali Leonti), whose wife is in Moldavia and cannot re-enter Austria.
The relationship between Walter and Philipp veers between father-and-son and bickering friends (with the best moment when Walter decides to hone his knife-throwing skills by using a pretentious wooden carving of Philipp as his target), but while it is intriguing to see the two men grow to get to know each other the film eventually drifts off to a non-ending as Walter engages in a plan to head off to Moldavia to smuggle Victor's wife back into the country.
Production company: Vento Film
Sales contact: Austrian Film Commission, www.afc.at
Producer: Rainer Frimmel
Screenplay: Tizza Covi, Rainer Frimmel, Xavier Bayer
Cinematography: Rainer Frimmel
Editor: Tizza Covi, Emily Artmann
Main cast: Philipp Hochmair, Walter Saabel, Vitali Leonti