Dir: Pedro Almodovar. Spain. 2011. 116mins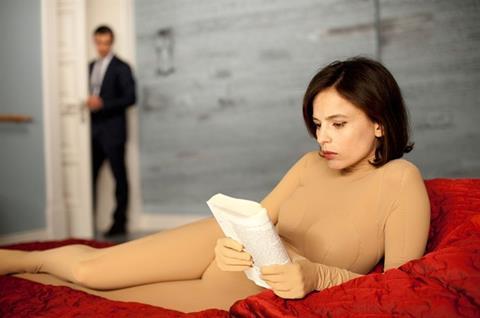 Pedro Almodovar's 18th feature - and the first to reunite him with Antonio Banderas since 1990's Tie Me Up, Tie Me Down - finds the man from La Mancha in dazzlingly idiosyncratic form with a sexual melodrama which unites the visual austerity of his more recent work with elements of sheer Almodovarian entertainment.
Antonio Banderas flourishes in this return to Spanish-language film-making.
The Skin I Live In (La Piel Que Habito) sees the director working with his usual creative team - cinematographer Jose Luis Alcaine, production designer Antxon Gomez, and perhaps most notably, composer Alberto Iglesias - to distil their elegant and restrained art into an entertainingly preposterous story which is nudged even further along by Almodovar's trademark gender preoccupations.
At times The Skin I Live In feels like rejuvenation for the 61-year-old director. Despite the dark theme, it boasts his confident playfulness of old. Recently Almodovar has referenced the great filmmakers in noir homages; here he mostly references himself and is, yes, at ease this time in his own skin.
Commercially, The Skin I Live In should play wide: it's not as immediately accessible or dramatically compact as Volver, but All About My Mother could be the best commercial benchmark, aided by a revitalised Antonio Banderas. Fans of the director will be overjoyed after the chilly remoteness of Broken Embraces and reviews should be warm, although not everyone will respond whole-heartedly to the film's relaxed attitudes to narrative and convention.
Adapted by Pedro and his brother Agustin from the crime novel Mygale (released in English-speaking markets as Tarantula) by Thierry Jonquet, The Skin I Live In is a long-awaited and much worked-upon reunification of the director with Banderas - first announced a decade ago - and while it seems inevitable that somebody would be tied up, everyone in The Skin I Live In is incarcerated in their own prison.
The action starts out in Toledo in 2012 and is centred around a finca called El Cigarral, austere home to eminent plastic surgeon Robert Ledgard, veteran of no less than nine facial transplants. "The face defines us," he tells an audience of academicians, revealing he has created a new skin named Gal, after his late wife.
We already know, at this point, that Robert has not achieved this breakthrough via conventional means. He maintains a full surgery in his house. He has a laboratory in his basement. He keeps a woman (Anaya) dressed head-to-toe in a compression garment in a windowless room while he spies on her, feeds her opium, and works on her skin transplant. Marisa Paredes is Marilia, his platinum-bewigged housekeeper, who reproaches him for "using the same face" and warns Robert: "If you don't kill her, she'll kill herself. They all do."
Clinically shot in warm, glassy grays and flesh tones, The Skin I Live In appears to be moving along genre lines - despite notable visual flourishes such as the giant Titians and faceless Jorge Galindos adorning Robert's walls alongside shots of bubbling petri dishes.
This all takes a marked turn into Almodovarian territory, however, when a man dressed as a tiger (it's Carnival in Madrid) arrives at the gate, looking for his mother, Marilia, and identifies himself through the security cameras by a birthmark on his backside. Zeca (Alamo) has just burgled Bulgari and wants a face transplant. It appears he may have a dark history with Robert…and Vera, the woman pacing the room who looks remarkably like Robert's wife.
The source material wasn't called 'Tarantula' for nothing: about an hour into proceedings, Almodovar suddenly shoots a web back six years in time to a plot strand involving Robert's dead daughter and a young boy called Vicente (the promising young Jan Cornet). But not before a delicious scene-setting monologue from Marisa Paredes which includes the memorable line: "I've got insanity in my entrails".
To give any more away would be ruinous to the considerable pleasure derived from a fresh viewing of The Skin I Live In: suffice to say that waking up from an operation will never be the same again.
Visually marrying surgery with sex, Almodovar is the anti-David Cronenberg, providing unexpectedly provocative frissons in scenes involving the beautiful Anaya (Sex And Lucia). Her lithe physical presence also lends the film a sensual grace and form, helped by costumes from Paco Delgado, working with Jean Paul Gaultier.
Throughout The Skin I Live In, Almodovar references Louise Bourgeois, the artist and sculptor known as The Spiderwoman and the founder of confessional art; he thanks her in the credits for personal inspiration and for the character of Vera. And the trapped characters of The Skin I Live In pluck constantly at fabrics, straw, Vera's alternating black-and-flesh-coloured suits, to express themselves in stuffed, ripped, doll-like sculptures.
In the film's most beautiful marriage of sight with the escalating sounds of Alberto Iglesias' Vivaldi-influenced soundtrack, Vera shreds her clothes before sucking them up in a bizarre vacuum; an escape bid is also pulse-quickening. Jazzy songs from flamenco fusion artist Concha Buika add melancholy to a late tragic interlude.
Supported by Almodovar's regulars (Paredes, Broken Embrace's Gomez, Alamo), Antonio Banderas flourishes in this return to Spanish-language film-making. As with Penelope Cruz, he's never performed better than with Pedro. The Skin I Live In marks 22 years since Tie Me Up, Tie Me Down. It's worth the wait.

Production companies: El Deseo
International sales: FilmNation Entertainment, www.wearefilmmation.com
Producers: Agustin Almodovar, Esther Garcia
Screenplay: Pedro Almodovar with Agustin Almodovar, based on the novel Mygale (Tarantula) by Thierry Jonquet
Cinematography: Jose Luis Alcaine
Production designer: Antxon Gomez
Music: Alberto Iglesias
Main cast: Antonio Banderas, Elena Anaya, Marisa Paredes, Jan Cornet, Roberto Alamo, Eduard Fernandez, Blanca Suarez, Barbara Lennie, Fernando Cayo, Jose Luis Gomez