Dir: Pera Vila I Barcelo. Spain-France. 2012. 80mins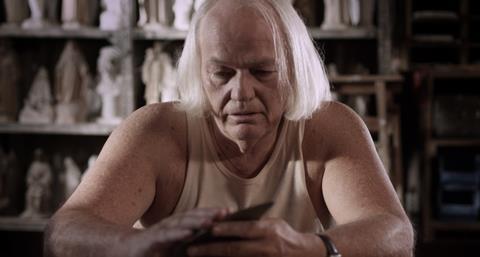 Subtlety is not the strongest point in this painful duel between a dying old man and his hateful daughter who would like nothing better than to see him go. Tagged as a film about old age, Pera Vila I Barcelo's French-speaking film is bound to have a hard time, particularly this year, coming so soon on the tracks of Michael Haneke's Cannes winner yet so pronouncedly different is his approach to the similar theme.
A slow, brutal, abstract film of generational conflict.
Etienne (Lou Castel), a retired old restorer living all by himself in a flat that he does not own but will not leave, with all the memories left behind by his late wife and daughter. The apartment is a mess, dusty, dirty and smelly, filled with piles of books, forgotten files, old newspapers, are lying all over the place.The Stoning Of St Stephen (La Lapidation De St. Etienne) screened in competition at the Karlovy Vary International Film Festival.
Etienne himself is also falling apart. He is often incontinent; needs a hearing aid to make contact with the world around him (not that he has any interest in it) and is on medication but hardly ever visits his doctor, if at all.
Jeanne (Marie Payen), his other daughter, the legal owner of the flat, is pregnant, bitchy, loud and states her demands that he should take himself off to a home and leave the flat to her from the very first screen encounter they have.
Etienne stubbornly refuses to budge - he prefers to go on restoring all the statuettes filling up the long shelves in one of his rooms, looking with longing at the X-rays of the departed wife and daughter - who, he says, refused to be photographed - smell their dresses and close down the dusty piano.
The third party in this confrontation is Etienne's brother (Luis Rego), who tries, in a gentler manner, to suggest a home would be better for an ailing old man. There is also a kind of Greek chorus – Etienne's neighbors – constantly harassing him to go away.
Dramatically, nothing much happens in the first hour. Etienne sticks to his guns, Jeanne calls him names no daughter usually ever dares call a parent, the spiteful encounters between them are repeated several times, while Etienne's physical condition constantly deteriorates. There is of course only one possible ending to this confrontation and it is reached in a manner that deprives both parties of the last shreds of dignity they had, Etienne as a self-sufficient human being and Jeanne as the only person left to lend a helping hand.
A slow, brutal, abstract film of generational conflict, the young one aggressively pushing the old out, the script lays its sympathy squarely on one side, making out of Etienne not a saintly martyr, as the title implies, but rather a pathetic, helpless victim soliciting pity instead of understanding, as he obsessively shut himself off the world into a realm of his own. If anything, he needs medical assistance to which he could be easily be submitted, whether he likes it or not. But that does not enter into the specific agenda of this metaphor.
Castel, once the outspoken rebel of the young Italian cinema of the sixties, his head adorned now with a long, white, mane, moves ponderously through the flat, proudly flaunting his disabilities but never quite getting under his character's skin. Payen plays Jeanne as a strident harridan, offensive from the very beginning and keeping the same tone to the very end. As for Jordi Casadervall's soundtrack, its lush melodic sentimentality floods in waves to support the pain and suffering in case they are not sufficiently conveyed by the image.
Production company: Eddie Saeta S.A.
International Sales: Media Luna New Films, idamartins@medialuna.biz
Producer: Luis Minarro
Screenplay: Pere Vila I Barcelo, Laura Marino
Cinematography: Josre Luis Bernal
Editor: David Perez
Production designer: David Fauchs
Music: Jordi Casadevall
Main cast: Lou Castel, Marie Payen, Luis Rego