After years in development, Vertigo's big-screen feature version of iconic seventies TV series The Sweeney has arrived (eOne is releasing in the UK on September 12), complete with fast cars, bank robberies and Ray Winstone and Ben Drew as crime busting duo Regan and Carter.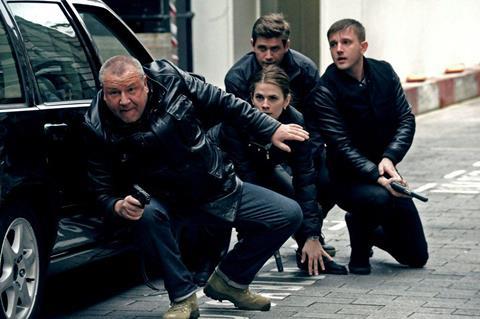 It hasn't been an easy ride for The Sweeney. The project first surfaced five years ago with Andrew Macdonald at DNA, who bought the rights to the original UK TV series (starring John Thaw and Denis Waterman as two members of the Flying Squad, a branch of the London police force specialising in violent crime and robbery), signing a deal with Twentieth Century Fox to develop the project and bringing in Vertigo's Nick Love (Football Factory) to direct and co-write the script with John Hodge.
But the development process became bogged down with issues over budget and casting. "Fox wanted a 35 year old who didn't smoke or swear to play Regan," says Love, who is one of the founders of UK production company Vertigo Films together with Allan Niblo and James Richardson. "That would have been fine for an international movie, but it would have also killed the homegrown territory, the UK, if we made a watered down version."
For full production details visit
The project eventually got put into turn around, and was only saved when Vertigo chose to go ahead and buy the rights themselves, teaming up with new UK production outfit Embargo Films on their second collaboration following Pusher.
Originally pitched as a $10m film, it has ended up being made for half that. "It's a scary amount of money, not only because of the high octane action, but because within that we have had to pay back huge development costs to Fox," explains Niblo who has produced the film for Vertigo. "But it's a real testament to what can be done when there is love for a project."
Through a series of canny partnerships, Vertigo has been able to add value to the project, teaming up with Ford to create a specially designed new car model – a Ford Focus ST – to transport Regan and Carter around in, which will be launched in this summer and will play a key part in the marketing of the film.
BBC TV programme Top Gear also came onboard to do the film's car stunts, whilst The Sweeney has secured a slot in [mobile phone company] Orange's gold spot advertising campaigns.
When it came to casting, Love and Niblo always had Ray Winstone in mind for the part of police officer Regan, but their choice was buoyed by a survey carried out on the British public. "We did our own street polls with everyone from taxi drivers to students and Ray was miles ahead of everybody else. The word that kept coming up in relation to Ray was legend."
Coincidentally Winstone's first ever acting role was in an episode of the original television series. "To be playing Regan some 30 years later is quite incredible," says Winstone, who admits that the prospect was nevertheless daunting. "It had to be a great script because it was such an iconic series. I couldn't emulate John Thaw, but hopefully we've emulated The Sweeney in a way that is truthful to these times now."
The team were keen to corner the younger market with Regan's sidekick Carter, playing up his background as a young guy from the wrong side of the tracks. And after singer turned actor/director Ben Drew (aka Plan B) came in to read for a smaller part, they realised that they had found their man. "He was believable and fresh and the camera loves him. For me he is the biggest surprise of the film," says Love.
"I had to think about what would make a kid from a council estate want to become a police officer, knowing that all his friends would stop talking to him. And I hope that younger audiences can see a bit of themselves in George Carter," explains Drew, whose debut feature Ill Manors was released in UK cinemas this month.
At the same time the Vertigo team was also painfully aware of the need to keep fans of the original TV series happy. "Cut throat producers would say, don't bother with the old audiences, put lots of sex and car chases in it and you're away," says Love. "But since we started developing this film, the trend has changed. Five years ago, it was all about The Fast And The Furious, and now the great thing about films like Tinker Tailor is that they show that older audiences can mean big business," says Love, admitting that he initially felt the pressure of recreating such an iconic brand.
"I had moments when I thought this is a really big thing to do. But now I'm ok. I've nailed my colours to the mast."
Despite its inherent Britishness, the film has sold impressively internationally, with Protagonist securing a slew of deals in Cannes including to eOne in the US.
Love is now in talks with Winstone and Drew to make a sequel to The Sweeney, which promises to be more international in flavour and to chart how the characters of Regan and Carter met.
Meanwhile Vertigo are continuing their push towards more commercially driven films with Walking On Sunshine, a feel good musical feature which is due to shoot in July. The company has family comedy All Stars shooting now.
"As a company we are still doing our low-budget stuff, that is what we cut our teeth on. But we are certainly looking more towards commercial films. It's all very well having a cool reputation, but there comes a point when you get bored of being broke," says Love with a laugh.