Dirs: Richard Stanley, Buddy Giovinazzo, Tom Savini, Douglas Buck, Karim Hussain, David Gregory, Jeremy Kasten. US-France-Canada. 2012. 114mins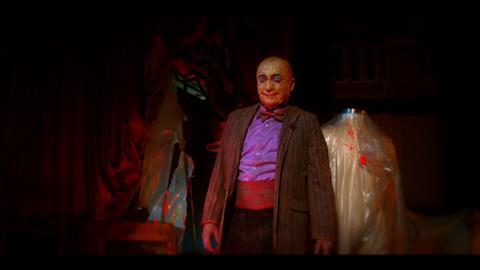 Horror anthology The Theatre Bizarre is made up of six quirky, Grand Guignol-esque shorts from directors including effects whizz Tom Savini. Though cult horror fans will certainly be the primary audience, there's enough gory fun on offer for this US-French omnibus to have some crossover appeal as well, especially when it reaches the home entertainment marketplace.
Several of the segments make up for their lack of polish with a clear relish for their genre.
After screening at a number of horror festivals last year, the film gets a limited US theatrical release this month through W2 Media. Outside the US, the use of international locations and talent may create interest in territories including the UK, France, Germany and Canada.
A framing device has a disturbed young woman stumbling into an abandoned theatre where a creepy marionette (played by German veteran Udo Kier) introduces the six tales.
The first, directed by Richard Stanley (Hardware) and set in the French countryside, is a moderately effective Hammer Horror-style piece about an attractive young couple and a witch (played by British horror queen Catriona MacColl).
Other segments feature German actor Andre Hennicke (A Dangerous Method) and Canadian TV name Kaniehtiio Horn working under directors including Buddy Giovinazzo (No Way Home), Karim Hussain (Ascension) and David Gregory (Plague Town).
The best of the half dozen are Savini's grisly Wet Dreams, about the Freudian nightmares of an unfaithful husband, and The Accident, a surprisingly poetic musing on a child's view of death directed by Douglas Buck (Family Portraits: A Trilogy of America).
While the effects were clearly done on a budget and the scripts are often flimsy, several of the segments make up for their lack of polish with a clear relish for their genre.
W2 has already announced a sequel to be released in 2013.
Production companies: Severin Films, Metaluna Productions
US distribution: W2 Media
International sales: W2 Media, www.w2media.com
Producers: John Cregan, Carl Daft, David Gregory, Fabrice Lambot, Jean-Pierre Putters, Michael Ruggiero
Executive producer: Daryl J Tucker
Screenplay: Zach Chassler, Richard Stanley, Scarlett Amans, Emiliano Ranzani, Buddy Giovinazzo, John Esposito, Douglas Buck, Karim Hussain, David Gregory
Cinematography: David M Brewer, Karim Hussain, Michael Kotschi, Eduardo Fiero, John Honore
Production designers: Lorry O'Toole, Arnaud de la Giraudiere, Lisa Loher
Editors: Maxx Gillman, Pauline Pallier, Robert Bohrer, Douglas Buck
Music: Eric Liam Powell, Simon Boswell, Susan DiBona, Bobb Freund, Pierre Marchand, Mark Raskin
Main cast: Udo Kier, Virginia Newcomb, Catriona MacColl, Victoria Maurette, Andre Hennicke, Suzan Anbeh, Debbie Rochon, Tom Savini, Lena Kleine, Melodie Simmard, Kaniehtiio Horn, Lindsay Goranson, Guilford Adams