Dirs: Peter Farrelly & Bobby Farrelly. US. 2012. 92mins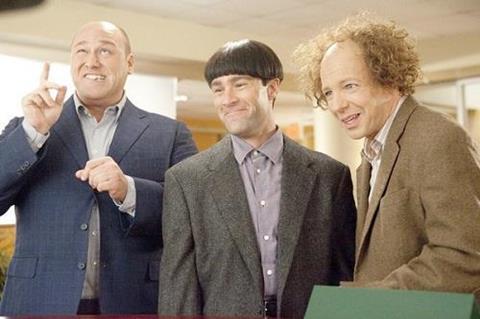 Proudly, gleefully stupid, The Three Stooges finds directors Peter and Bobby Farrelly in fine lowbrow form. Powered by the manic physical comedy of the iconic titular trio, this movie favours quantity over quality in the joke department, but the proceedings' infectious good cheer – anchored by skilful performances from Sean Hayes, Will Sasso and Chris Diamantopoulos as those rascally stooges – can't help but win you over. The Three Stooges may not be witty or subtle, but it's pretty darn funny.
The trio have been given a lot of funny material to mine.
Opening April 13, this Fox release will lean heavily on audiences' familiarity with the classic vaudeville act and their slapstick shenanigans. None of the actors playing the stooges are household names, so arguably the film's biggest marquee draw are the Farrelly brothers themselves, although admittedly their last sizable hit was 2001's Shallow Hal, which brought in $141m worldwide. Aimed at family audiences but no doubt hoping to attract older crowds as well, The Three Stooges is a bit of a roll of the dice commercially, and so robust word-of-mouth will be critical.
Abandoned at an orphanage when they were just babies, Larry (Hayes), Curly (Sasso) and Moe (Diamantopoulos) have grown up to be sheltered, squabbling, moronic adults. But when the orphanage has to raise $830,000 in 30 days in order to stay open, the trio decide to go out into the scary world to find the money. Unfortunately, their need for fast cash puts them in the crosshairs of a vengeful gold digger named Lydia (Sofia Vergara), who hires them to perform what they believe is a mercy killing of her ailing husband – only to learn that the man is perfectly fit and merely an impediment to her plans for his fortune.
Burdened with a convoluted story that gets in the way of the humour, The Three Stooges is at its best when it sticks to the spirit of the original shorts, which were all about their madcap mayhem. To be fair, the stooges' shtick is an acquired taste – bad puns intermixed with ultra-repetitive, sometimes viscously violent physical comedy – and the Farrelly brothers don't entirely conquer the problem of how to turn a limited comic repertoire into a feature-length film. But as they've demonstrated in comedies like There's Something About Mary and Dumb And Dumber, The Three Stooges has a winning innocence and sweetness that makes these buffoons oddly lovable, no matter how much they smack each other around.
Going with lesser-known actors, the Farrellys may have damaged their film's potential box office, but their cast prove quite impressive at not just resembling the original stooges but also harnessing their choreographed comic flourishes. Hayes manages to conjure up Larry Fine's amiable pleasantness, Sasso perfectly embodies Curly Howard's dopey gentle-giant persona, and Diamantopoulos clearly grasps Moe Howard's slow-fuse surliness. While it would be a stretch to say that these new actors are the spitting image of their predecessors, there's a freewheeling confidence and camaraderie in their performances that doesn't rely entirely on mimicry to be effective.
Of course, it also helps that the trio have been given a lot of funny material to mine. Working with co-writer Mike Cerrone, the Farrellys' script features several opportunities for extended comedy sequences, often involving characters falling down, hitting their head or barrelling into other characters – all accompanied by the wonderfully cartoonish sound effects of the old Stooges shorts. To complain about these moments' sophomoric humour would be to miss the point, though. Much like the Zucker/Abrahams/Zucker spoofs of the 1980s and '90s – or, to go further back, the Marx Brothers comedies of the 1920s and '30s – The Three Stooges coasts on its dopey, groan-worthy jokes, transforming lowbrow gags into a rude, defiant badge of honour in the face of intellectual pretension.
With that said, The Three Stooges can be maddeningly uneven, with inspired bits of business butting up against lame satire of reality television. Because its story is so pedestrian, the film surges and sags on the strength of its latest laugh, which can make for an occasionally exhausting viewing experience as the Farrellys and their stars try to keep this balloon afloat. Still, they're ably assisted by a game supporting cast who have dialled into the movie's sillier-than-silly tone. Particularly strong are Larry David, who seems to be having a ball playing a crotchety nun, and Sofia Vergara, who combines sex appeal and comic smarts as the movie's boo-hiss villain.
Production companies: Conundrum Entertainment, Charles B. Wessler Entertainment, C3 Entertainment
Domestic distribution: Twentieth Century Fox, www.foxmovies.com
Producers: Bradley Thomas, Charles B. Wessler, Bobby Farrelly, Peter Farrelly
Executive producers: Earl M. Benjamin, Robert N. Benjamin, Marc S. Fischer
Screenplay: Mike Cerrone & Bobby Farrelly & Peter Farrelly
Cinematography: Matthew F. Leonetti
Production design: Arlan Jay Vetter
Editor: Sam Seig
Music: John Debney
Website: www.threestooges.com
Main cast: Sean Hayes, Will Sasso, Chris Diamantopoulos, Jane Lynch, Sofia Vergara, Jennifer Hudson, Craig Bierko, Larry David