Dir/scr: Hossein Amini. UK-US-France. 2013. 96mins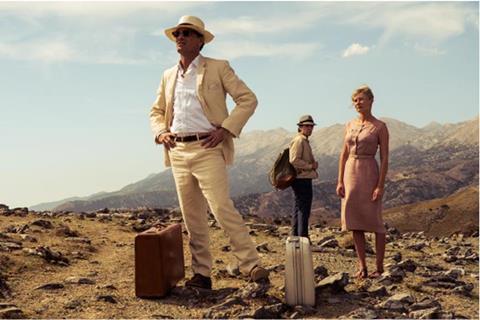 The award-winning writer Hossein Amini (The Wings Of Desire, Drive) makes his directorial debut with a taut, elegant adaptation of the lesser-known 1964 Patricia Highsmith novel, The Two Faces Of January. Amini positively embraces the spirit of Hitchcock, from content to period style to "the blonde", to deliver a quiet thoroughbred for the Studio Canal/Working Title stable which has produced both Tinker Tailor and The Constant Gardener and should seduce exactly the same audience with smooth precision.
This project has clearly been handled with care throughout its half-century-long journey from the page to screen and many should find it was worth the wait.
Adapting the complex novel himself, Amini has turned its close relationship with The Talented Mr Ripley and Strangers On A Train to his advantage, pushing off from Hitchcock and Minghella to try his own hand at the double-crisscross through Europe. He knows their earlier works shadow his characters onscreen, but this film is still unpredictable and emotionally rich. This is in no small part due to Viggo Mortensen and Oscar Isaac as the Highsmith doppelgangers (with Isaac more than consolidating his star turn from Inside Llewyn Davis). Kirsten Dunst also hits all the right notes with restraint.
The Two Faces Of January is certainly a looker, set in 1962 Greece and Turkey and shot crisply by Marcel Zyskind, scored with restraint by Alberto Iglesias. The locations, of course, with the opportunity for '60s set dressing and costumes against the backdrop of the Acropolis and Knossos, are a Hitchockian dream for the art department and immediately set the spirit of the piece.
Handsome young American Rydal Keener (Isaacs) is a Greek-speaking tour guide in Athens, content with skimming money from American exchange students, when he spots the elegant couple Chester and Colette MacFarland (Mortensen and Dunst) at the Parthenon. At odds with his own father, Rydal is initially attracted to the suave, worldly Chester but also to his much younger wife.
Rydal becomes willingly embroiled with the couple, and inadvertently complicit in a death that may or may not be murder. Bit by bit, Chester reveals his true colours and Rydal finds himself more and more compromised as the trio flees to Crete and across the Greek countryside in a bus in the full heat of summer. This is not a road trip you'd want to be part of, however, and Rydal will need to up his game to survive it.
It's not certain whether anyone in in The Two Faces Of January ever completely shows their cards, and it's this delicious ambiguity that propels the film across Crete and into Turkey, with the pursuit really hotting up in Istanbul. This is played out delicately by the actors, with Mortensen's increasingly disheveled desperation and cunning counter-balanced by Isaacs' open-faced duplicity.
Originally optioned by producer Tom Sternberg (The Talented Mr Ripley) and briefly set up at Sidney Pollack and Anthony Minghella's Mirage (both are acknowledged in the credits) for Amini to direct, The Two Faces Of January eventually shot in autumn 2012, premiering at the Berlin Film festival in 2014. That's quite a delay, but this project has clearly been handled with care throughout its half-century-long journey from the page to screen and many should find it was worth the wait.
Production companies: Working Title Films, Timnick Films
International sales: StudioCanal, ronald.halpern@canal-plus.com
Producers: Robyn Slovo, Tom Sternberg, Tim Bevan, Eric Fellner
Executive producers: Tim Bricknell, Ron Halpern, Max Minghella
Cinematography: Marcel Zyskind
Editors: Nicolas Chaudeurge, Jon Harris
Production designer: Michael Carlin
Music: Alberto Iglesias
Main cast: Viggo Mortensen, Kirsten Dunst, Oscar Isaac, David Warshofsky, Daisy Bevan, Aleifer Prometheus