Dir: Michael Sucsy. US. 2012. 103mins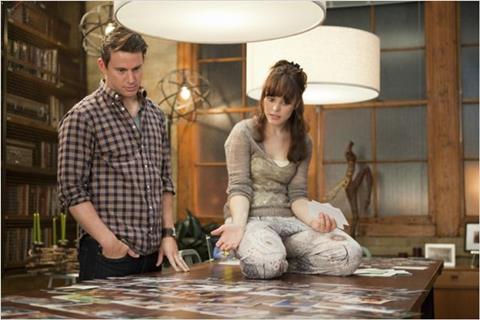 The Vow flirts with several interesting themes – the nature of identity, the mystery of attraction – but too easily this romantic drama sticks to a formulaic narrative that loudly preaches love conquers all, despite the fact that the material desperately requires a more nuanced touch. Leads Rachel McAdams and Channing Tatum do their best to make this amnesia storyline memorable, but the film's lingering impression is that the story's real-life inspiration seems far more intriguing than what's on the screen.
The Vow has potentially rich dramatic material to mine.
Opening February 10, The Vow will be the chief date-night offering in the lead-up to Valentine's Day. (The romantic action-comedy This Means War unspools the following weekend.) McAdams' connection to The Notebook and The Time Traveler's Wife will help commercially, as will Tatum's involvement with Dear John, but this may prove to be only a so-so theatrical proposition, finding more breathing room on DVD and cable.
Directed by Michael Sucsy, who previously helmed the HBO film Grey Gardens starring Drew Barrymore and Vow co-star Jessica Lange, the movie is inspired by the true story of a recently married couple who got involved in a car accident, leaving the wife without any memory of her husband. The Vow adopts that premise, presenting us with Paige (McAdams) and Leo (Tatum), who are very much in love before her head injury robs her of any memory of her time with her husband. But the more Leo tries to win back his now-distant wife, the more alienated she feels, finding herself drawn to her dashing former fiancé (Scott Speedman), whom she doesn't remember breaking up with.
The Vow has potentially rich dramatic material to mine – particularly, exploring the fragility of popular romantic notions such as soul mates and love at first sight. Paige and Leo's initial courtship was a storybook fling, but in light of her amnesia can he (and should he) replicate the steps that captured her heart in the first place? And is true love a formula or, rather, something more inexplicable that can't be duplicated?
Unfortunately, the filmmakers aren't particularly invested in examining such questions. Instead, The Vow quickly establishes heroes and villains, setting up Paige's old flame and her parents (Lange and Sam Neill) as snooty, moneyed, business-minded relics of her past who want to lure her away from Leo and his support of her freewheeling life as an artist, which ran counter to her old life as an aspiring law student.
A smarter, better film would have raised the possibility that perhaps Paige's old life held possibilities for happiness as well, but The Vowis much more comfortable presenting Leo and his anti-materialist worldview as the true path to contentment and demonizing all those who support Paige's embrace of her previous life.
McAdams continues to have a smile that can light up a room, but her role requires her to consistently reject Tatum's sweetness to such a degree that Paige soon becomes unlikable, no matter the fact that she's just gone through a traumatic brain injury.
Meanwhile, Tatum essentially plays the lovable lunk who bends over backward to win Paige's affections. To be fair, he does have his affecting moments, but it's a performance that's akin to being a warm-hearted teddy bear, which is too simplistic for a movie that really should be thinking through its deeper themes a little more rigorously than it does.
Production companies: Spyglass Entertainment, Screen Gems, Birnbaum/Barber
Domestic distribution: Sony Pictures, www.sonypictures.com
Producers: Roger Birnbaum, Gary Barber, Jonathan Glickman, Paul Taublieb
Executive producers: J. Miles Dale, Austin Hearst, Susan Cooper
Screenplay: Abby Kohn & Marc Silverstein and Jason Katims, story by Stuart Sender
Cinematography: Rogier Stoffers
Production designer: Kalina Ivanov
Editors: Nancy Richardson, Melissa Kent
Music: Rachel Portman, Michael Brook
Website: www.thevow-movie.com
Main cast: Rachel McAdams, Channing Tatum, Sam Neill, Scott Speedman, Jessica Lange