Dir: James Watkins. UK. 2011. 95mins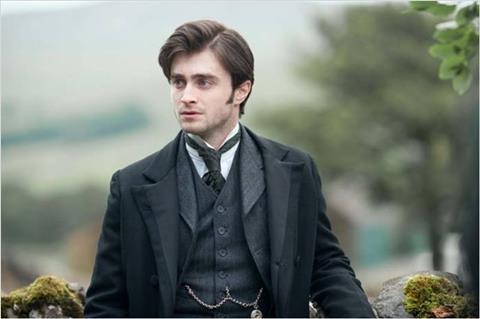 Good old-fashioned gothic horror is the name of the game in The Woman In Black, an impressively spooky adaptation of Susan Hill's best-selling novel that delivers plenty of jumps, jolts and thrills and is driven by a restrained adult performance by Harry Potter star Daniel Radcliffe as a young lawyer who spends time in a creepy old mansion.
James Watkins directs with a good deal of respect for the rules of gothic horror.
This Victorian period horror tale is refreshing in that it makes no bones about what it is about – delivering gothic horror thrills pure and simple. The 1982 source novel has already been adapted into a successful stage production, but its story of dark secrets and mysterious horror is perfectly suited for a big screen version. Opening in the US on February 3 (and in the UK on February 10) it may disappoint gore hounds on the lookout for blood'n'guts, and may find it hard to appeal to younger audiences but it delivers enough honest-to-goodness jumps to keep genre fans happy.
Adapted by Jane Goldman (who most recently co-scripted X-Men: First Class and Kick-Ass), the film stars Radcliffe as young lawyer Arthur Kipps who is still mourning the death of his wife and trying to balance his emotional traumas with work and looking after his three year-old son Joseph (played by Misha Handley, Radcliffe's real life godson).
Arthur is forced to travel to the remote village of Crythin Gifford to look after the affairs of the recently deceased owner of Eel Marsh House, a creepy old mansion located on an island that can only be reached by foot during low tide. The haunted appearance of a mysterious woman all dressed in black – glimpsed around the house and in the gardens – leads Arthur to unearth the dark secrets of in the villagers' past.
Arthur is befriended by wealthy Mr Daily (Ciaran Hinds) who lives at a nearby manor house with his wife (Janet McTeer) – who has secrets of her own – but despite protests from the locals Arthur opts to spend the night at haunted Eel Marsh House, partly because he seeks some sort of assurance that his wife has gone to a better place.
Cue plenty of old-fashioned spookiness as the woman in black crops up to make audiences jump. It says something about the rather simplistic structure that the reason why there are some many scary things happening at this remote rural hamlet is barely discussed until late into the film. This is a movie that takes it as read that it is about the spooks and scares and doesn't really trouble itself with explanations about how it all might be happening.
With Harry Potter firmly behind him, Daniel Radcliffe sports stubble and sideburns to help his haunted Arthur Kipps appear adult and tortured by memories of his late wife. He does a pretty good job, though at times it is hard to get to grips about why he is so determined to spend time in such an obviously haunted house. Strong supporting cast including Ciaran Hinds, Janet McTeer and Roger Allam help bring a real gravitas to proceedings.
James Watkins directs with a good deal of respect for the rules of gothic horror and is aided by terrific design work by Kave Quinn along with Tim Maurice-Jones's atmospheric cinematography.
Production companies: Hammer Films Productions, Alliance Films, Cross Creek Pictures, Exclusive Media Group, Film i Vast, Filmgate
International sales: Exclusive Media Group, www.exclusivefilmsinternational.com
Producers: Simon Oakes, Richard Jackson, Brian Oliver
Executive producers: Guy East, Nigel Sinclair, Tobin Armbrust, Marc Schipper, Neil Dunn, Tyler Thompson, Roy Lee, Xavier Marchand
Co-producers: Ben Holden, Paul Ritchie, Rodd Thompson
Screenplay: Jane Goldman, based on the novel by Susan Hill
Cinematography: Tim Maurice-Jones
Editor: Jon Harris
Production designer: Kave Quinn
Music: Marco Beltrami
Website: www.womaninblack.com
Main cast: Daniel Radcliffe, Ciaran Hinds, Janet McTeer, Liz White, Sophie Stuckey, Misha Handley, Roger Allam, Shaun Dooley