Dir/scr: Teona Strugar Mitevska. Macedonia-Germany-Slovenia-Belgium, 2012. 103mins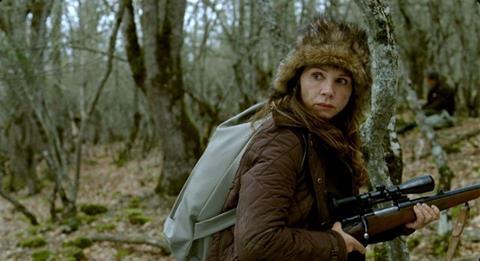 The Woman Who Brushed Off Her Tears certainly sets out to be 'The Film That Grabbed Viewers' Attention', subjecting Helena (Victoria Abril) to a brisk rape by her own son Noah (Gjorgievski) in the opening minutes, before, claiming abuse by his father Emil (Galey), he leaps to his death off the balcony of their Paris apartment.
Abril's character is always an uncomfortable fit in the story.
Teona Strugar Mitevska's second feature (her short, Veta, won a Jury award in Berlin a decade ago) is made with her sister Labina (Welcome To Sarajevo) as the second female lead, playing a young country peasant, Ajsun. Single mother of IIkin (Varka) and cause of her violent father's dishonour, Asjun is one of Macedonia's Juruci people, who live near the town of Radovish and wear brightly-coloured costumes (to the delight of Monika Lorber's costume department and Matyas Erdely's camera).
Helena and Ajsun are connected via Lucian (Bajraktaraj), IIkin's father, a paroled drug smuggler who comes under the professional care of probation officer Helena in Paris - but who desperately wants to get back to his fiancé and son in Macedonia.
Lucian's quest meets Helena's need to set the past right in The Woman Who Brushed Off Her Tears with the Mitevska sisters - Labina also produced - turning in an ambitious film which works better in Macedonia for the first part than it ever manages in Paris. Abril's character is always an uncomfortable fit in the story, although it is her name that will pique limited viewer interest.
The sequences that truly sell this picture, however, take place in Macedonia amongst the Juruci as Ajsun and Ilkin go about their daily business together.
Parallels are drawn throughout between Helena, whose family is in the process of total destruction, and Ajsun, who only seeks to reunite hers. Playing Ajsun, Mitevska is as attractive here as in either of her Winterbottom films (she also stars in I Want You), but the role itself is fairly straightforward. Much more is asked of Paris-based Abril from the film's very opening moment, and she doesn't always have the support of a credible arc (at one point she's branding a scissors around a shower; at another, her character is levitating).
Erderly's camera follows Abril from behind curtains and doors, while Ajsun is set against the expanses of the Macedonian countryside. Paris exteriors are minimal.
Production company: Sisters and Brother Mitevski
International sales: Urban Distribution International, www.urbandistrib.com
Producer: Labina Mitevska
Executive: producer Ana Jordanova
Cinematography: Matyas Erdely
Editor: Nicolas Gaster
Production designer: Vuk Mitevski, Stephan Von Tresckow
Main cast: Victoria Abril, Labina Mitevska, Jean Marie Galey, Arben Bajraktaraj, Firdaus Nebi, Kaeliok Fonenimum Varka, Dimitar Gjorgjievski