Far From The Madding Crowd director joined by cinematographer Charlotte Bruus Christensen.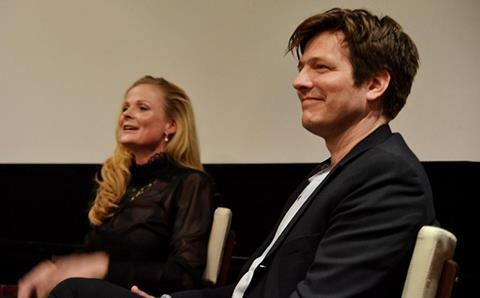 Director Thomas Vinterberg and NFTS Cinematography graduate Charlotte Bruus Christensen talked to students about working together on Far From The Madding Crowd, at an NFTS masterclass chaired by film critic James King.
Thomas Vinterberg had already won a European Film Award, British Independent Film Award, was nominated for BAFTAs and an Oscar and was one of the co-founders of the Dogme movement with Lars von Trier when he first met cinematographer, Charlotte Bruus Christensen.He says he was looking for a new approach for his film:"Submarino was a rebirth for me and working with Charlotte, who was fresh out of film school, was a good way to start again. Her work stood out as exceptionally beautiful, naked and pure."
They have since worked together on three films including The Hunt, for which they both won Cannes Film Festival awards and an adaptation of Thomas Hardy's novel Far from The Madding Crowd for Fox Searchlight, which is on release from May 1st.
Far From The Madding Crowd
This is the first film that Vinterberg has directed but not written and says he fell in love with David Nicholls' script: "There is a fatalism in the story that is similar to the Scandi darkness or Bergman and I fell in love with it."
Being asked to direct a film for Fox was liberating he says: "I asked Fox what they wanted from me and they said, 'grandness and believability.' I set out to make a Thomas Hardy film not a Thomas Vinterberg film and chose to be loyal to the original story while making it modern; talking to an audience of the modern age."
Location
Set in rural Victorian England, the film tells the story of the independent and headstrong Bathsheba Everdene (Carey Mulligan) who attracts three very different suitors Gabriel Oak, a sheep farmer (Matthias Schoenaerts); Frank Troy, a reckless Sergeant (Tom Sturridge); and William Boldwood, a prosperous and mature bachelor (Michael Sheen).
Equally central to Hardy's novel is his description of the landscape. Vinterberg and Charlotte say they chose to shoot on location in Dorset, Somerset and Oxfordshire because, "…we wanted to be part of the landscape. We felt inspired by this the location."
Asked why they shot on film rather than digital, Bruus Chistensen says: "It was for story telling rather than technical reasons. Film allows you to feel the Dorset landscape, the texture and weather. To be true to Hardy's novel this film had to be pure and not have layers of digital manipulation."
Cinematography
Bruus Christensen needed to capture four seasons over two years and chose to use filters in camera to create a look of warmth and softness, even the winter snow scenes.
The use of darkness received praised by Screen film critic Finnouala Halligan for capturing "… brooding darkness and moments of intense light – her camera illuminates the emotions and high drama on display, from a dappled twilight, where the buttons on Bathsheba's dress grow luminous, to the crisply empty winter vistas and the bitter snow of Boldwood's doomed Christmas celebrations."
Vinterberg applauded her use of black, saying: "The way you use black is beautiful. There is no detail, it is stunning."
Preparation & Rehearsals
Danish Vinterberg and Bruus Christensen have an ease and understanding in their filmmaking partnership that transcends their commonly shared language: "We talk and talk and talk before we shoot. This whole preparation is very important to us. But when we are on set, I can look at Charlotte and she knows what I want."
In preparing for Far From The Madding Crowd, Vinterberg chose not to watch the acclaimed 1967 version directed by John Schlesinger and instead drew on film references such as Fanny and Alexander, Gone with The Wind, 1900 by Bertolucci, Doctor Zhivago and others.
"We try to find the heart and soul of each scene," says Vinterberg, "We wanted to find the purity in this material, we wanted to bypass the frocks and bonnets and get into the inner life of the characters and yet still have the sweep of the films from the 1950s."
Rehearsing was equally key, and the actors were given two weeks to prepare. Each actor took a different approach to rehearsals, reveals Vinterberg: "Carey Mulligan rehearses and rehearses so that she can let go in front of the camera; Michael Sheen is a traditional, fantastic, very well trained actor who goes into the character's back story to find the emotion; Tom Sturridge wanted to learn how to fence so he could find the physicality of his character the soldier; Matthias Schoenaerts didn't really want to have rehearsals. He said 'just switch on the camera and I'll be there for you.' And he was! They were all different actors and as a director you need to treat them differently."
Find out more about the NFTS two-year Cinematography MA course here.