Director: Krzysztof Kieslowski (France-Poland-Switzerland)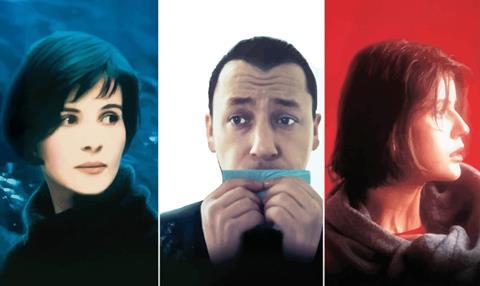 Every generation needs its high priest of art cinema, a figure who can combine spirituality, intellect, moral heft and, ideally, the ability to turn actors into radiantly enigmatic screen icons. The 1950s and '60s had Ingmar Bergman, the '70s had Andrei Tarkovsky (although he never created stars) and, for the '80s and '90s, Polish director Krzysztof Kieslowski proved the ideal package.
Following several austerely impressive features, including No End and Blind Chance, Kieslowski confirmed his ambition in 1988 with Dekalog, a 10-part series of linked dramas, ostensibly for television. In his first French film, The Double Life Of Véronique (1991), his style became more glossily seductive as he explored a strain of symbolically laden metaphysical drama.
The Three Colours trilogy — Blue, White and Red — was another venture in conceptual cinema, its interlinked standalone dramas inspired by the colours of the French flag. Marketed on the presence of its French female stars (Juliette Binoche, Julie Delpy and Irene Jacob), Three Colours offered a model for the art film as a glamorously prestige event for upmarket viewers.
Kieslowski's success not only boosted thoughtfully stylised English-language projects such as The English Patient, it also established a pattern that has helped other cosmopolitan directors (Michael Haneke, Lars von Trier, Alejandro Gonzalez Inarritu) to make serious films that find a global audience.