Fox's re-release dethrones The Hunger Games with strong $4.4m (£2.8m) debut.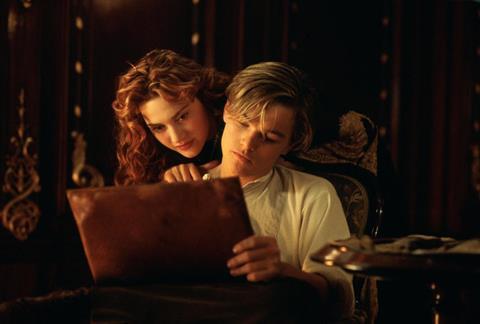 Not content with going 13 weeks at the top spot on its original release in 1998, Titanic enjoyed a triumphant return to the UK box office with a number one debut.
Fox's 3D re-release enchanted its way to a $4.4m (£2.8m) opening to prevent The Hunger Games from a third consecutive week at the top of the chart. It follows in the success of the distributor's recent 3D re-release of Star Wars: Episode I - The Phantom Menace, which has taken $8.4m (£5.3m) in the UK to date.
Combined with its original release, James Cameron's epic has now grossed $113.5m (£71.7m) in the UK and is closing in on Harry Potter And The Deathly Hallows: Part 2's $115.6m (£73.1m) haul to become the third biggest film of all time at the UK box office.
Despite falling a place to second, Lionsgate's The Hunger Games continued its excellent run by adding a further $3.8m (£2.4m) in its third weekend.
Gary Ross' adaptation of Suzanne Collins' best-selling novel has overtaken the original Twilight's final tally of $17.7m (£11.2m) and currently stands at $25.6m (£16.2m) in the UK, following a superb bank holiday Monday gross of $1.6m (£1.0m), and at a stunning $460m worldwide.
Bolstered by four days of previews - after opening on Monday - StudioCanal's Mirror Mirror enjoyed a solid $3.8m (£2.4m) debut in the UK to chart third - although this position could alter when official figures are released.
The overall result is director Tarsem Singh's best-ever opening in the UK, topping the $3.4m (£2.1m) achieved by Immortals last year although it's worth noting that Immortals' opening was solely a three-day weekend; Mirror Mirror's estimated three-day weekend was $1.8m (£1.1m).
Sony's The Pirates! In An Adventure With Scientists! enjoyed a 15% rise in its second week, adding $3.5m (£2.2m) for $12.4m (£7.8m) overall. The holdover is on par with Aardman's previous effort Arthur Christmas which rose 9% for $3.6m (£2.3m) in its second week, and bodes well for an extended run for Pirates! in the UK.
Warner Bros' sequel Wrath Of The Titans rounded off this week's top five.
Vertigo's StreetDance 2 has accumulated $3.4m (£2.2m) after adding $1.0m (£648,247) over the four-day Easter weekend.
This week sees saturation releases for Universal's action sci-fi Battleship (opening April 11) and Lionsgate's horror The Cabin In The Woods from cult favourites Drew Goddard and Joss Whedon. StudioCanal's Delicacy and Chelsea Film Entertainment's Blackthorn both receive limited releases.