Kelly Reichardt's Wendy and Lucy was Best Picture and the film's star Michelle Williams earned the Best Actress nod as the Toronto Film Critics Association (TFCA) announced its 2008 honours.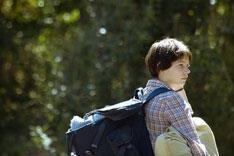 Best Picture runners-up were Jonathan Demme's Rachel Getting Married and Andrew Stanton's Wall-E.

At the end of the day, Demme's film took the most awards, with a Best Director nod for him, Best Screenplay for Jenny Lumet and Best Supporting Actress for Rosemarie DeWitt.

The Best Actor award went to Mickey Rourke for his raw come-back performance in The Wrestler, besting Sean Penn's turn as the gay activist pioneer in Milk. Former action star Jean-Claude Van Damme was a surprise runner-up for his role in JCVD.

Best Actress Williams beat out Anne Hathaway for Rachel Getting Married and Meryl Streep for Doubt while DeWitt's supporting turn beat Penelope Cruz for Vicky Cristina Barcelona and Viola Davis for Doubt.

Williams' former partner Heath Ledger was a near unanimous choice as Supporting Actor for The Dark Knight. Josh Brolin of Milk, Robert Downey, Jr. of Tropic Thunder and Philip Seymour Hoffman of Doubt were runners-up.

Demme's competitors for Best Director were Danny Boyle for Slumdog Millionaire and Andrew Stanton for Wall-E. The latter's consolation was Best Animated Feature; Wall-E topped Waltz With Bashir, Persepolis and Kung-Fu Panda.

Lumet's screenplay for Rachel Getting Married bested two playwrights adapting their own work: John Patrick Shanley for Doubt and Peter Morgan for Frost/Nixon.

Best First Feature went to Lance Hammer's Ballast while Eran Kolirin's The Band's Visit and Courtney Hunt's Frozen River were runners-up.

Best Foreign-Language Film was Swedish vampire title Let The Right One In. Its runners-up were all French: Palme d'Or winner The Class, its fellow Cannes competitor A Christmas Tale and Berlin title I've Love You So Long.

Best Documentary was James Marsh's Man On Wire, the story of the 1974 tightrope walk between the twin towers of the World Trade Center, followed by Errol Morris' Standard Operating Procedure and Yung Chang's Up The Yangtze, itself a nominee for the yet-to-be-announced Rogers Best Canadian Film Award.

The winner of that inaugural C$10,000 prize will be announced at a dinner on January 6, 2009. The two other nominees are Continental: A Film Without Guns, directed by Stephane Lafleur and My Winnipeg, directed by Guy Maddin. The prize will be presented by filmmaker Sarah Polley, whose Away From Her was voted Best Canadian Film by the TFCA in 2007.