UPDATE: The studio has acquired North American rights to the Arnold Schwarzenegger and Abigail Breslin zombie film and has pulled it from its Toronto world premiere berth.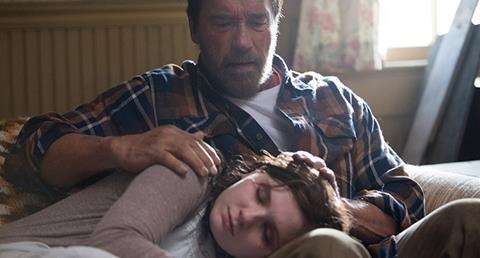 Maggie was set to premiere at the festival on September 12, however now the public will have to wait until the early 2015 release.
Neither the film's North American representatives CAA, Lionsgate itself, international sales agent Lotus Entertainment nor the festival had returned calls at time of writing to explain why the film would no longer premiere in Canada.
However industry insiders said Lionsgate intend to re-cut the film and do not want to present it until it is ready.
Silver Reel And Gold Star Films financed the story of a Midwestern farmer who cares for his daughter after she succumbs to a deadly plague.
Henry Hobson's feature directorial debut is based on the Black List screenplay by John Scott 3.
Maggie marks the latest entry in Schwarzenegger's return to acting after his political activities as California Governor forced a lay-off of several years.
Bill Johnson and Ara Keshishian produced alongside Colin Bates, Joey Tufaro, Pierre-Ange Le Pogam, Matthew Baer and Schwarzenegger.
Claudia Blumhuber and Jim Seibel are executive producers.