Michael Wintbottom's The Face of An Angel, Kevin Smith's Tusk and Peter Strickland's The Duke Of Burgundy will receive their world premieres at the Toronto International Film Festival; new documentaries from Joshua Oppenheimer and Nick Broomfield are also among TIFF's second wave.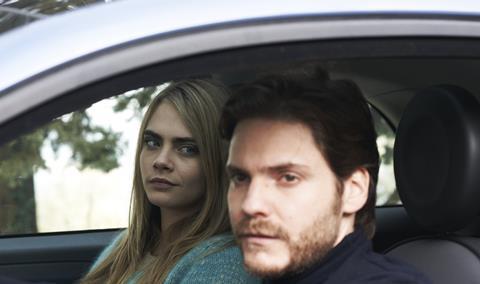 As always, TIFF programmers stress the information is not final or complete and remains subject to change. Canadian films in the strands listed below will be announced on August 6.
The first wave of titles was announced last week.
As previously announced, the world premieres of David Dobkins' drama The Judge starring Robert Downey Jr and Robert Duvall, and Alan Rickman's A Little Chaos bookend the festival.
TIFF is set to run from September 4-14. For further information visit the official website.
WP = World premiere
NAP = North American premiere
IP = International premiere
CP = Canadian premiere
TIFF DOCS
Beats Of The Antonov (Sudan-South Africa), Hajooj Kuka WP
I Am Here (Wo Jiu Shi Wo) (China), Fan Lixin IP
Iraqi Odyssey (Iraq-Switzerland-Germany-UAE), Samir WP
Merchants Of Doubt (US), Robert Kenner CP
National Diploma (Examen d'Etat) (France-Congo), Dieudo Hamadi NAP
National Gallery (France-US), Frederick Wiseman NAP
Natural Resistance (Italy-France), Jonathan Nossiter NAP
Red Army (US-Russia), Gabe Polsky CP
Seymour: An Introduction (US), Ethan Hawke IP
Silvered Water, Syria Self-Portrait (Ma'a al Fidda) (Syria-France), Ossama Mohammed and Wiam Simav Bedirxan NAP
Sunshine Superman (US-Norway-UK), Marah Strauch WP
Tales Of The Grim Sleeper (US-UK), Nick Broomfield WP
The Look Of Silence (Senyap) (Denmark-Indonesia-Norway-Finland-UK), Joshua Oppenheimer CP
This Is My Land (France), Tamara Erde WP
The Yes Men Are Revolting (US), Laura Nix and the Yes Men WP
Previously announced:
Roger & Me (US), Michael Moore
Documentaries featured in other festival programmes are still to be announced. Canadian documentaries will be announced in the coming weeks.
MASTERS
1001 Grams (Norway-Germany-France), Bent Hamer WP
A Pigeon Sat On A Branch Reflecting On Existence (En Duva Satt På En Gren Och Funderade På Tillvaron) (Sweden-Norway-France-Germany), Roy Andersson NAP
The Face Of An Angel (UK), Michael Winterbottom WP
The Golden Era (Huang Jin Shi Dai) (China-Hong Kong), Ann Hui NAP
Goodbye To Language 3D (Adieu Au Langage 3D) (France), Jean-Luc Godard NAP
Hill Of Freedom (Ja-Yu-Ui Eon-Deok) (South Korea), Hong Sang-soo NAP
Leviathan (Russia), Andrey Zvyagintsev CP
Revivre (Hwajang) (South Korea), Im Kwon-taek NAP
Timbuktu (France-Mauritania-Mali), Abderrahmane Sissako NAP
MIDNIGHT MADNESS
[REC] 4: Apocalypse (Spain), Jaume Balagueró WP
Big Game (Finland-UK-Germany), Jalmari Helander WP
Cub (Belgium), Jonas Govaerts WP
Electric Boogaloo: The Wild, Untold Story Of Cannon Films (Australia), Mark Hartley IP
It Follows (US), David Robert Mitchell NAP
The Guest (US), Adam Wingard CP
Tokyo Tribe (Japan), Sion Sono IP [Midnight Madness Opening Night Film]
Tusk (US), Kevin Smith WP
What We Do in the Shadows (New Zealand-US), Taika Waititi, Jemaine Clement CP
VANGUARD
Alleluia (France-Belgium), Fabrice Du Welz NAP
The Duke Of Burgundy (UK), Peter Strickland WP
Goodnight Mommy (Ich Seh, Ich Seh) (Austria), Veronika Franz and Severin Fiala NAP
Hyena (UK), Gerard Johnson IP
Luna (UK), Dave McKean WP
Over Your Dead Body (Japan), Takashi Miike IP
Shrew's Nest (Musarañas) (Spain), Juanfer Andrés and Esteban Roel WP
Spring (US), Justin Benson/Aaron Moorhead WP
They Have Escaped (Finland), JP Valkeapää NAP
Waste Land (Belgium), Pieter Van Hees WP
The World Of Kanako (Kawaki) (Japan), Tetsuya Nakashima IP