Dir/scr: Guy Browning. UK. 2012. 84mins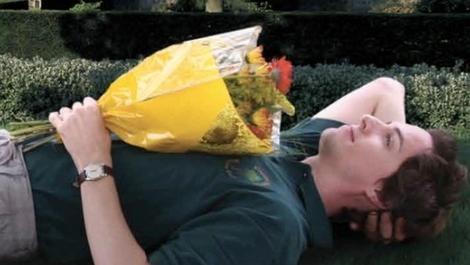 The spirit, enthusiasm and genial ineptness of theatrical amateur dramatics makes it to the big screen with the engagingly amateur low-budget British film Tortoise In Love, a film that revels in its tagline that it was 'made by almost the entire village of Kingston Bagpuize'.
In essence the film is rather like an amateur dramatics company attempting to put on a rom-com version of The Archers.
After a glitzy premiere in London's Leicester Square, the film receives a series of screenings through the UK, and while it may appeal to a middle-class rural audience who could appreciate its honest and charming love for the politics, dramas and love affairs that drive British village life, it won't leave Spider-Man or Batman quaking in their super-hero boots. International audiences may be intrigued by this rather quaint British oddity, but home entertainment seems the only real life for it outside the UK.
To a certain extent the story behind the film is more interesting that the final product. Guy Browning is a writer in the idyllic Oxfordshire village of Kingston Bagpuize, and decided that his home would make the perfect film. Close to 400 villagers volunteered to help make the film happen – the entire cast and crew stayed with villagers; the Women's Institute organised catering, while props, driving, costumes, make-up and other logistical tasks were undertaken by a small army of villagers.
Amongst the villagers starring in the film, in a cameo role, is Ed Vaizey, local MP and current minister for Culture, Communications and Creative Industries in the Department for Culture, Media and Sport (DCMS).
The core of the film is the terminally slow love affair between shy gardener Tom (Tom Mitchelson) and local Polish au pair Anya (Alice Zawadski). He has moved back from London to work in the grounds of the village's manor house, while she is au pair to young Harry (Tom Yates), whose uncaring parents live in the house. Various locals do their best to help Tom finally get round to declaring his love, with their burgeoning affair set against the backdrop of plans for the annual village fair.
There are actually no tortoises to be seen here – the title refers to Tom's super slow-moving pursuit if Anya.
The village itself makes a lovely backdrop, and despite a rather clumsy plot there are some game and enthusiastic performances, with Alice Zawadski engaging as the bemused Anya who can't quite work out why Tom is so slow. Tom Mitchelson is trying to play his bumbling role as Hugh Grant, but can't quite pull off Grant's innate charm.
In essence the film is rather like an amateur dramatics company attempting to put on a rom-com version of The Archers (BBC Radio's famous long-running rural soap opera), and while it was probably a delight to shoot and thrilling for those involved to see their antics on the big screen, it offers little for audiences not in on the background.
Production company: Immense Productions
International sales: 7&7, www.7and7.co.uk
Producer: Steffan Aquarone
Cinematography: Balazs Bolygo
Editor: Dave Stephenson
Production designer: Jan Carlisle
Music: Geoff Cattrell
Website: www.tortoiseinlove.co.uk
Main cast: Tom Mitchelson, Alice Zawadski, Tom Yates, Mike Kemp, Steven Elder, Duncan Armitage, Des Brittain, Lesley Staples, Anna Scott