Dir: James Nunn, Ronnie Thompson. UK. 2012. 87mins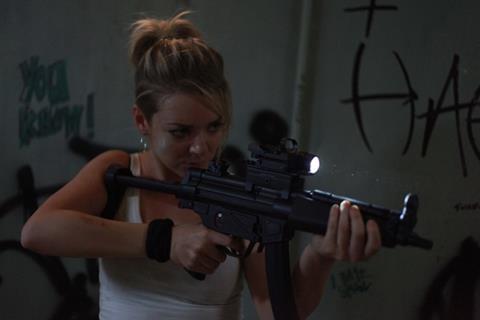 A good, low-budget suspense picture with a bit of London grit, this begins with an all-too-ordinary crime and spirals into an unusual, challenging siege situation.
Tower Block has a strong cast of familiar British faces, most with recent film or TV exposure, and gets the most out of limited, grimy settings.
A fifteen-year-old is chased into a nearly-depopulated tower block – a developer is trying to get shot of everyone and only diehards remain in residence, conveniently all on one floor – and, though Becky (Sheridan Smith) tries to intervene, the neighbours hide behind their locked doors and let the kicking continue.
The kid dies and nobody – not even Becky – will talk to the police or help solve the case. Some time later, the blockees wake up one morning to find phone, internet and wireless connections down. A sniper on an adjacent building picks off whoever shows his or her head in a window or tries to get out of the building via the exposed eternal stairs. Shotgun traps are set up in odd places and the rear door is blocked by a skip.
An array of personality types, in various stages of grief, cope with what's going on in manners which range from poor to atrocious, and Becky finds herself elevated to unlikely leader, even earning the respect of reformed hardman Neville (Ralph Brown), protection racketeering thug Kurtis (Jack O'Connell) and self-contained drunk Neville (Russell Tovey).
Scripted by James Moran (Severance, Cockneys vs Zombies) and directed by the debut team of James Nunn and Ronnie Thompson, this follows the guilty group/lone avenger format of several other recent Brit horrors (Wilderness, Tormented, WAZ) and manages to make the lone sniper a formidable threat, with a high-tech rifle only the kid who plays online games recognises as an expensive item, though it's inevitably a disappointment when he shows up in person and turns out to be less fearsome than he was as a barely-glimpsed, possibly inhuman presence.
It sets its characters a simple quandary and then follows them as they try to think of ways out of it – mostly with fatal results – but also shows some just giving up, like the screeching bad mother (Montserrat Lombard) who becomes guilt-ridden when her babies are killed and offers herself in front of the window as a sacrifice.
Along with Sheridan Smith, who shows her strengths as the situation becomes more perilous, Tower Block has a strong cast of familiar British faces, most with recent film or TV exposure, and gets the most out of limited, grimy settings. Inevitably, there's liftshaft climbing, arson and a lot of snarly tough talk from hysterical people, with O'Connell in the now-traditional role of group member who causes the most trouble for other people and steps in to do the wrong thing and make things much worse whenever the killer is quiet.
Production companies: Creativity Media, Tea Shop & Film Company
International sales: SC Films International, www.scfilmsinternational.com
Producers: Patrick Fischer, James Harris, Matthias Hoene, Mark Lane, James Moran, Ronnie Thompson
Screenplay: James Moran
Cinematography: Ben Moulden
Editor: Kate Coggins
Production designer: Kasja Soderlund
Music: Owen Morris
Main cast: Sheridan Smith, Jack O'Connell, Ralph Brown, Russell Tovey, Steven Cree, Julie Graham, Montserrat Lombard, Christopher Fulford