Yeon Sang-ho's apocalypse thriller won the Cheval Noir Award for Best Feature and the Audience Award for Best Asian Feature as the festival came to an end in Montreal.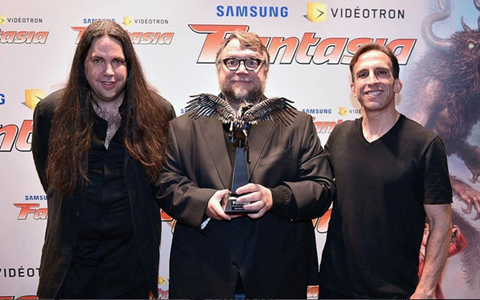 RedPeter Film's Train To Busan is on a roll after it hit 10million admissions in its native South Korea on August 7. The film premiered in the Midnight Screenings section in Cannes and has sparked remake offers. Well Go USA Entertainment released it in the US in July.
Organisers at the 20th Fantasia International Film Festival said the event, which boasted 19 world premieres, 209 screening and 11 VR films, attracted more than 100,000 spectators.
Guillermo Del Toro (pictured with Fantasia co-director Mitch Davis and fantasia co-director of international programming Anthony Timpone) and Takashi Miike received the Cheval Noir and Lifetime Achievement Awards.
Jean-Claude Lord received the inaugural Prix Denis Héroux honouring his contribution to developing the Québécois genre.
Other Cheval Noir award-winners included best director Kiyoshi Kurosawa for Creepy, E J-Yong's script The Bacchus Lady for best screenplay, best actress Yuon Yuh-jung for The Bacchus Lady, and best actor Franko Dijak for Goran.
Na Hong-jin's Cannes premiere The Wailing earned the Prix AQCC by the Quebcois film critics group.
Among the additional award recipients were Adam Nimov's For The Love Of Spock, which earned the Audience Award for best documentary feature, and Sang Ho's Seoul Station, which received the audience award for best animated feature.
Man Underground by Michael Borowiec and Sam Marine received the New Flesh Award for best first feature, and Feuilles Mortes by Thierry Bouffard was named Barry Convex Award for best Canadian feature.
Anthony Ferrante's (Sharknado) short film Killer Deal received the award for best virtual reality film.
World premieres included the festival opener, Daniel Grou's King Dave, which also received the audience award for best Canadian feature; Ian MacAllister-McDonald's Some Freaks starring Thomas Mann for which Lily Mae Harrington received the New Flesh Award special jury mention for her debut acting performance; Keishi Otomo's The Top Secret: Murder In Mind; and Michael Reich's She's Allergic To Cats.
Fantasia ran from July 14-August 3. For the full list of winners click here.