Dir: Nobuo Mizuta. Japan. 2012. 111mins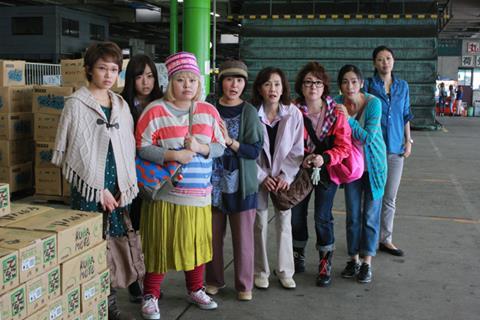 A sentimental slice of mainstream Japanese comedy-drama, Tug of War! Will be reassuringly familiar for local audiences – women pulling together in the spirit of comradeship and glory – but unlikely to figure much internationally beyond Japan-orientated film festivals.
There are some engaging moments of humour but in the end Tug Of War! Is entirely predictable.
The film, which opens November 23 in Japan and had its world premiere at the Tokyo International Film Festival, is gently enjoyable in a clichéd way, ticks all of the right boxes in terms of structure and pacing and in Mao Inoue has a star who has charm and energy to spare.
In a bid to save his city from a recession, the mayor of Oita city enlists Chiaki Nishikawa (Mao Inoue) from the city's public relations department to run a campaign to stimulate the local economy and bring vibrancy back to the town.
A one-time Olympic sport tug-of-war was once beloved in Oita where a male team had much success (the city in the past was won the tug-of-war world championship three times) but the mayor insists women from a threatened local catering co-operative take part if he is to consider saving their factory.
Inspired by a true story, Tug of War! is the "heart-warming tale" of how seven ordinary women band together to try and revitalise their local community, forming firm friendships along the way. Naturally enough they choose Chiaki (whose mother and aunt are part of the team) as their captain, but equally naturally there are fun and games, tears and tantrums and more then a little obvious entertainment as they learn how to pull together.
The film follows an all-too-familiar three-act arc, but is at least blessed with a nice variety of characters to develop amongst the women – shy one, overweight one, flirty one etc. – while Chiaki is lumbered with the subplot of being romanced by the genial chap assigned to trained the woman, who are rather patronisingly given the team name of "Tug Of War Babes".
There are some engaging moments of humour – like when they take on a junior school team for their first tournament – and a few melodramatic scenes (involving parents/children/partners) - but in the end Tug Of War! Is entirely predictable. Not necessarily a bad thing, but the film therefore lacks any real charm.
Production company: 'Tug-of-War Babes" Film Partners
International sales: Nippon Television Network, www.ntv.co.jp/
Producer: Nobuyuki Iinuma
Executive producer: Seiji Okuda
Screenplay: Daisuke Habara
Music: Taro Iwashiro
Website: http://www.tsunahiki.jp
Main cast: Mao Inoue, Keiko Matsuzaka, Tetsuji Tamayama, Yoko Asaji, Naomi Nishida, Sonim, Naomi Watanabe, Inuko Inuyama, Akiko Chubachi