Mel Gibson and Andrew Garfield discussed WWII drama following Venice world premiere screening.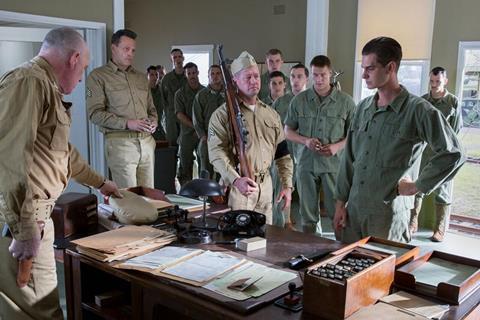 Director Mel Gibson made his directorial comeback on the Lido today [Sept 4] with the world premiere screening of WWII drama-biopic Hacksaw Ridge, starring Andrew Garfield.
Gibson's first film as director since action-adventure Apocalypto ten years ago, charts the true story of American army medic Desmond T. Doss, who served during the Battle of Okinawa.
Doss, a Seventh Day Adventist, refused to bear arms due to religious beliefs but during the conflict managed to save the lives of at least 75 men, becoming the first conscientious objector in American history to be awarded the Medal of Honor.
Garfield's co-stars include Teresa Palmer, Hugo Weaving, Sam Worthington and Vince Vaughn.
Described by Screen as "a potent reminder of sacrifice, heroism, and the power of faith", Lionsgate's charge received applause folowing its two press screenings and is on course for an awards corridor release in the US on November 4.
Significant box office seems likely in light of the film's subject, quality elements and generally positive early reviews.
The Oscar-winning director of Braveheart, told a Venice press conference: "His struggle is singular. He is in the worst situation possible. He goes into the struggle with faith and conviction. He does something supernatural. That inspired me. As story-tellers we want to tell those stories."
"To go in to a battle zone like that. I think the Japanese called it a steel rain, with the artillery and the lead that was flying around, to go into that armed with only your faith, your faith has to be strong indeed," he continued. "That's an undeniable part of the story that I just find really inspiring. He just conquers everything."
Andrew Garfield added: "Desmond Doss is a wonderful symbol of 'live and let live', no matter what your ideology is, to allow others to be who they are. He argued for love. We could all learn something from him."
Gibson, who was joined at the conference by cast members and producer Bill Mechanic, praised war veterans and said that more needed to be done to counteract suicide among soldiers returning from conflict.
"I hate wars. You have to love the warrior and give him homage and honour… Our warriors need some love and understanding. I hope this film imparts that message."
Gibson's cast praised him for his working methods. Hugo Weaving, who plays Doss's father, commented: "I loved working with Mel. He has a free-ranging mind and a wonderful energy and spirit which is very palpable. It was more about what he conveyed with his body language and his desire to keep exploring than what he said."
The bearded and somewhat jittery Gibson (the director spent some of the press conference sketching with a black felt pen), no stranger to controversy during his career, was asked by one journalist to describe his relationship to Hollwyood in one word: "Survival" is the one word I'd use in relation to Hollywood…the same word everyone uses."