Dir: Roman Polanski. France-Poland 2013. 96mins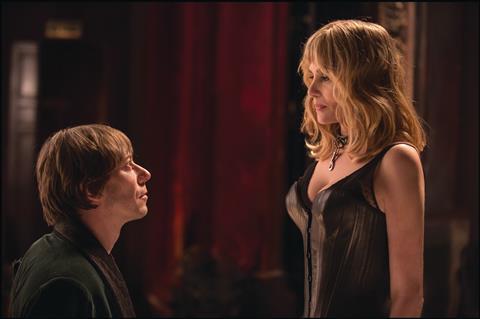 Roman Polanski returns to the theme of sexual bad manners for the first time since 1992's Bitter Moon, in the process giving a peach of a role to his wife Emmanuelle Seigner - arguably the most perversely tender gift a director has ever offered his wife on-screen. A brittle psychosexual comedy, Venus In Fur (La Vénus à la Fourrure) - surprisingly Polanski's first ever French-language film - pares down even further the chamber-cinema mode that he explored in Death And The Maiden and Carnage, to crisp and hugely entertaining effect. The wittily managed touches of SM sauciness in this adaptation of David Ives's theatrical two-hander will only boost the commercial chances of a sly, upmarket divertissement.
One of cinema's pithier recent musings on the connections between film and theatre, and actor-director power relations.
Starting on a rainy Paris street and moving indoors in an elegant opening shot, the film is set entirely in a deserted theatre where playwright-director Thomas (Mathieu Amalric) has been holding auditions for his adaptation of Venus In Furs [sic], the 1870s Austrian novel by Leopold von Sacher-Masoch that gave masochism its name. The frustrated Thomas is about to give up and go home - he despairs of finding a lead actress who's mature, sexy, intelligent and "can say the word 'inextricable' without a coach".
Then in, from out of the rain, walks a candidate (Seigner) who seems totally wrong - she's garrulous, vulgar and seemingly clueless, although she does share her name, Vanda, with Sacher-Masoch's imperious heroine. Cowed by her sheer force of personality, Thomas gives her a shot at the part - and is astonished to see how perfectly she incarnates the goddess of the novel. He doesn't know the half of it.
Like the similar play adaptation Carnage, and to more concentrated effect, Venus is built on a sustained series of reversals, with Thomas and Vanda jockeying for control of the situation - although she consistently holds the whip hand, as it were. The action moves in and out of Thomas's play, as playwright and actress rehearse the roles of Vanda and her submissive lover Severin - the text wittily interrupted by their arguments about what the play's really about, whether or not it's sexist, and how much Thomas is wiling to play by the rules of this mercurial muse who plays him like a piano.
Amalric and Seigner make a dream partnership, the shifting power politics of the characters' relationship given an uncanny twist by the fact that Amalric looks strikingly like the young Polanski, right down to the floppy hairstyle. Amalric is at his nervy best, from the cantankerous intellectual of the opening moments to the rapt admirer he later becomes, the actor giving us the best of his patented rabbit-in-the-headlights mode.
Seigner mutates unnervingly throughout, from blathering bimbo to increasingly fatale amazon, with even her hairdo transforming gradually from ragged mop to luscious mane. What we haven't seen before is just how funny Seigner can be as she rings the changes on Vanda's personality, from ditz to demoness. At one point, playing Vanda as fully Austrian, she even contrives to sneeze in a German accent.
Pawel Edelman's elegant photography and atmospheric lighting, plus economical decor (the stage is set for a musical version of Stagecoach, complete with phallic cacti) make this a hyper-classy minimalist number, and one of cinema's pithier recent musings on the connections between film and theatre, and actor-director power relations. And although the film/play isn't based, as Vanda supposes, on the Velvet Underground song, rest assured that some shiny, shiny boots of leather play a significant part.
Production companies: R.P. Productions, Monolith Films
International sales: Lionsgate, internationalsales@lionsgate.com
Producers: Alain Sarde, Robert Benmussa
Screenplay: David Ives
Cinematography: Pawel Edelman
Editors: Margot Meynier, Hervé de Luze
Production designer: Jean Rabasse
Music: Alexandre Desplat
Main cast: Mathieu Amalric, Emmanuelle Seigner