Dir: Sam Garbarski.  Belgium-Germany-Luxembourg. 2013. 96mins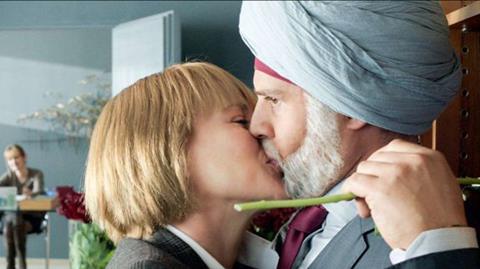 A light romantic comedy about the midlife crisis of a 40 year-old actor, Sam Garbarski's new film conforms to all the rules of the genre, including the cardinal one that making sense is irrelevant as long as it evades the potholes on its way. A European production through and through, but taking place in the ultimate melting pot of New York where every minority feels at home, this English-spoken romp shown at the Locarno Film Festival's Piazza Grande is the kind of easy fare that should have no problem finding its way into European screens (though US audiences may find it too sedate) before reaching an even larger television and home entertainment audience.
Bleibtreu and Arquette smartly never seem to take it too seriously.
Will Wilder (Moritz Bleibtreu), a German-born Jewish actor (the name of the character is a tribute to Billy Wilder) is married to a highly-strung marriage counselor, Julia (Patricia Arquette, who also has a production credit) but is fed up with his life. Everyone seems to have forgotten his 40th birthday; his once promising career has faded into now playing the role of Bad Luck Rabbit in a green costume for a TV kiddie show, and the young woman directing the show is driving him mad with her silly, unreasonable demands.
Exasperated, he rushes out of the soundstage, jumps into his car without even removing his rabbit costume and drives furiously away. Before long, he has his car stolen from under him. The thief who stole it is killed in a major traffic accident and with the remains are burned, everybody assumes it is Will Wilder who found his untimely death on the road.
At this point, Wilder is tempted to chuck out all of his past life and start anew, but not before he gets to attend his own funeral. With the unwilling help of his Indian restaurateur friend Rad (Danny Pudi), he disguises himself into a respectably elegant Sikh gentleman, Vijay Singh, he introduces himself to all his friends and his family – who naturally do not recognise him – as the long lost comrade of the sadly departed Wilder. He hears from them everything they really thought about the deceased and is invited by the bereaved widow to come over to his own house for the traditional post-funeral get-together.
Soon enough the widow falls for the exotic charms of the mysterious Mr Singh, who seems to be so much more knowledgeable, particularly in bed, than her late spouse, and even Will begins to like himself much better as Vijay than he ever did as Will.
With the help of two additional writers - Philippe Blasband and Matthew Robbins, Garbarski (who made Irina Palm) -manages, at least all the way through the first two thirds of the film, to come up with enough twists and turns to keep the yarn going and without wasting time on heavier or more practical issues that might concern the characters. But by the time the plot thickens and Will is getting ready (as Vijay) to marry again Julia, whose charms he has rediscovered, the script is rather out of breath, desperate to reach the final act and be allowed to take a rest.
Since transforming Will into Vijay is never more than a skin-deep affair - an act of rubbing make-up on his body, sticking a beard on his face and putting a turban on his head - it is hard to believe that a new personality emerges instead of the old and finally, therefore, the film's main dilemma of preferring one identity over the other is not really relevant, when one stops to think about it. But maybe that is exactly what one shouldn't do in this case.
Bleibtreu and Arquette smartly never seem to take it too seriously; Pudi gives a lively performance as the dedicated friend in need; Moni Moshonov and Jeannie Berlin as Will's in-laws offer a sympathetic touch of Jewish humour as the concerned parents worried about their daughter's future and veteran German stars Hanna Schygulla and Michael Gwisdek turn up, as Will's own parents, with an amusing tribute to the dropouts of an age gone by.
Production companies: Entre Chien et Loup, Samsa Film, Pandora Filmproduktion
International Sales: The Match Factory, www.the-match-fctory.com
Producers: Sebastien Delloye, Jani Thiltges, Reinhard Brundig
Screenplay: Philippe Blasband, Matthew Robbins, Sam Garbarski, based on Garnarski's original idea.
Cinematography: Alain Duplantier
Editor: Sandrine Deegen
Production designer: Veronique Sacrez
Main cast: Moritz Bleibtreu, Patricia Arquette, Danny Pudi, Michael Imperioli, Catherine Missal, Jeannie Berlin, Moni Moshonov, Hanna Schygulla, Michael Gwisdek, Tania Garbarski