Intricately animated coming-of-age tale from Colombia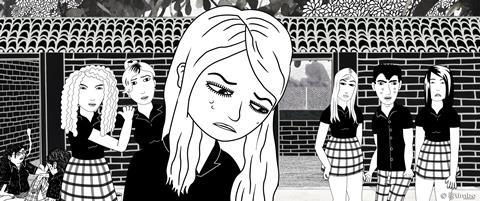 Dir: Santiago Caicedo. Colombia. 2017. 97 mins
Appealingly intricate animation is the main selling point of this coming-of-age story which captures, perhaps a little too authentically, the self absorption of adolescence. The film is adapted from the autobiographical coming of age graphic novel by Powerpaola (Paola Gaviria) which tells of her experiences growing up in Ecuador and Colombia, the youngest child in a middle-class household dominated by unconventional women.
The animation is at its loveliest when the attention of the story shifts focus and draws our gaze momentarily to the nature that surrounds Paola
The critically acclaimed source material was subsequently translated into English and French, so audience familiarity and goodwill may ease Virus Tropical's journey. However, although the closest parallel – both in monochrome animation style and female-led narrative – would be Marjane Satrapi's Persepolis (Powerpaola cites her work as a key influence), this film lacks similar punchy humour and political resonance and thus is unlikely to match its success. For its pleasing visual style and quirkily episodic storytelling, Virus Tropical should find a warm reception on the festival circuit and on pay per view platforms – where it could connect with teen audiences, if marketing stars align.
The film opens with a gorgeous sequence which details Paola's conception. Taking in a rainy cityscape, the drawing is obsessively detailed and ornate – it looks at times like a monochrome version of a painting by Gustav Klimt. Deliberately hokey pan flutes on the score place the film in South America, specifically Quito, Ecuador in 1976. Paola's mother's pregnancy is not without its complications. Since she had already had her tubes tied, a doctor misdiagnoses her pregnancy as a 'virus tropical'. The whispers of gossips on the street attribute her condition to demonic possession – a common side effect of marrying a former priest (Paola's father left the church to start his own family, a cause of ongoing contention.)
Paola's arrival into the family causes upheaval – she is adored (but frequently dropped) by her oldest sister Claudia; tormented by middle sister Patty; and used by her paternal grandmother as just another stick with which to beat her daughter-in-law.
We flick through key events in Paolo's life – Claudia's rebellion (she leaves cocaine spoons in the nursery), the maid's nose job, financed through systematically robbing the family, her father leaving the family to better serve the church. But the approach is rather cursory – like the stark black and white line drawings of the animation, there is little colour or shade to this storytelling. And, increasingly, Paola's tale is one in which minor dramas are magnified by the prism of adolescence. As such, it will best resonate with girls and young women who might identify with the small daily catastrophes afforded by choosing the wrong skirt, or having the wrong hair.
Perhaps unexpectedly, given the introspection of the material, the animation is at its loveliest when the attention of the story shifts focus and draws our gaze momentarily to the nature that surrounds Paola, first in Quito and later in Cali, Colombia. Feathery palm leaves ripple – even without colour, the backdrop feels lush with vegetation – and in one gorgeous sequence, a murmuration of birds swirls above the rooftops, a neat visual metaphor for the churning emotions of a teenage girl trying to work out just who she wants to be.
Production companies: Timbo Estudio, Ikki Films
International sales: Stray dogs sales@stray-dogs.com
Producers: Carolina Barrera Quevedo, Santiago Caicedo
Screenplay: Enrique Lozano, Powerpaola
Animation: David Restrepo, Manuel D'Macedo, Felipe Sanín, Carolina Gomez
Art directing: Powerpaola
Editor: Simón Hernández, Jorge Vallejo, Santiago Caicedo
Music: Adriana García Galán
Voice cast: María Cecilia Sánchez, Martina Toro, Alejandra Borrero, Diego León Hoyos, Mara Gutiérrez, María Parada, Camila Valenzuela, Javiera Valenzuela, Zoraida Duque