Dir/scr: Haifaa al Mansour. Saudi Arabia. 2012. 97mins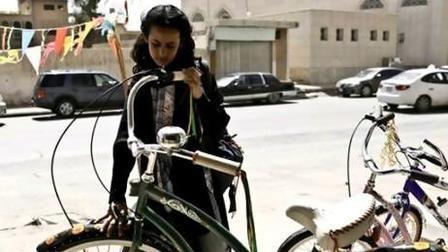 The first Saudi Arabian feature film to be directed by a woman, indeed the first to be entirely shot inside a country that does not have a single cinema, Wadjda is also that rare thing: a film from the Arabian peninsula with serious international distribution potential.
The story is tailored to highlight the pressures and difficulties faced by women in Saudi Arabia, especially those, like Wadjda, who dare to rebel against the prevailing norms.
Premiering in the Horizons section at Venice, Wadjda is a well-crafted, liberal and humane message film that will fascinate westerners with its glimpses into the lives of Saudi Arabian women behind closed domestic doors, and stir debate on womens' issues inside and outside the Middle East.
Blending ideas and style prompts from the White Balloon school of Iranian filmmaking with Western 'issue drama' arthouse input and the occasional hint of Egyptian-style melodrama, this is an affecting but also relatively safe slice of world cinema that will not set cineastes' pulses racing, but could nevertheless work well for indie distributors, and should appeal to receptive older audiences. Match Factory's recently announced deal with Pretti Pictures for France should be the first of many.
The film revolves entirely around smart, strong-willed 10-year-old tomboy Wadjda – played affectingly by Waad Mohamnmed, a real natural – who wears sneakers to school beneath her black robe and can't be bothered to tie her headscarf properly. She lives at home with parents who are loving, if a little distracted. Her father (Al Assaf) isn't around much, and her mother (Abdullah) is convinced he's bored of her and busy looking for a second wife.
Wadjda hangs out with a neighbourhood boy, Abdullah (Al Gohani), who has what she covets more than anything: a bicycle – though even her reasonably tolerant mother feeds her the line that if she rides a bicycle, she won't be able to have children.
When Wadjda sees a bike she wants in a local shop, she starts saving the money she makes from selling bracelets at school and running errands for older girls who, having reached puberty, don't have the freedom of movement that Wadjda still (briefly) enjoys. But she's still a long way from her target when a Koran recital and study competition is announced at her school, with a big cash prize.
The story is tailored to highlight the pressures and difficulties faced by women in Saudi Arabia, especially those, like Wadjda, who dare to rebel against the prevailing norms. But though simple and even a tad formulaic, the script picks up nuances as it goes along, showing for example how the control of women's lives and bodies that is inherent in the system is internalised by women themselves. Mrs Hussa (Ahd), the glamorous headmistress at Wadjda's school is clearly a bright, smart and ambitious woman who has become a strict enforcer of sharia law, perhaps to defend herself against her own beauty (pretty daughters are nothing but trouble, Wadjda's mother tells her, a propos of a friend whose daughter has been caught by the religious police with another man). Wadjda does not even feature on the painted family tree that hangs in the living room at home – because girls don't count.
There are slow passages, and the technical credits (including the unobtrusive, TV-style soundtrack) are professional without being ravishingly cinematic. But they work in the service of a solid story – and visually, Al Mansour and her cinematographer Reitemeier do play fruitfully with three elements that resonate with the film's themes: the glaring Saudi sun, the body-covering black abaya cloak and niqab face-coverings that Wadjda will soon be expected to wear, and the confinement of the spaces Saudi women inhabit, from schoolyards to gaudy domestic interiors, from shopping malls to the cars and women-only minibuses that protect them from the shame of walking in the street or using public transport.
Production companies: Razor Film, High Look Group, Rotana Studios
International sales: Match Factory, www.matchfactory.de(rest of world); United Talent Agency (North America); Rotana Studios, *** (Middle East)
Producers: Roman Paul, Gerhard Meixner
Executive producers: Hala Sarhan, Christian Granderath, Bettina Ricklefs, Rena Ronson, Louise Nemschoff
Cinematography: Lutz Reitemeier
Editor: Andreas Wodraschke
Production designer: Thomas Molt
Music: Max Richter
Main cast: Waad Mohammed, Reem Abdullah, Abdullrahman Al Gohani, Ahd, Sultan Al Assaf