Dir: Gavin O'Connor. US. 2011. 139mins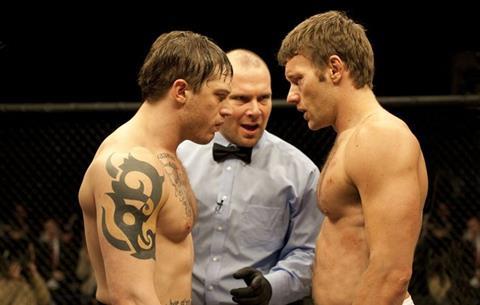 Compelling performances square off with increasingly conventional family drama in Warrior, a sports film whose promise of a more nuanced take on familiar genre tropes ends up battered and bruised. Joel Edgerton is superb as the estranged brother of enigmatic Tom Hardy, but this look at the world of mixed martial arts doesn't offer much new from the typical boxing movie.
Once the family dynamics are methodically laid out, O'Connor shifts gears to deliver a rather ordinary sports movie.
Opening in the US on September 9, this Lionsgate drama hopes to catch lightning in a bottle with its two rising stars, especially Hardy who was in Inception and will be the villain in The Dark Knight Rises. Some surface similarities to last year's The Fighter may help, but with mixed martial arts' popularity yet to translate to the movies, Warrior may have an easier time slugging it out in ancillary markets.
Trying to keep his family's home from falling into foreclosure, physics teacher Brendan (Edgerton) is moonlighting as a boxer for extra money, getting suspended from his day job because of it. Meanwhile, his distant brother Tommy (Hardy) has recently returned from a stint in the military. Separately, both men decide to train for a mixed martial arts competition that will net the winner a $5 million purse, which forces them to readdress their unhappy past with their alcoholic father (Nick Nolte).
Warrior was directed by Gavin O'Connor, bringing together the sports drama of his Miracle with the strained family bonds of his Pride And Glory. And in its opening reels, the film does a masterful job examining these characters' collapsing middle-class lives as recession and war threatens what little stability they have. There's a barebones grit to the performances that gives the familiar blue-collar milieu authenticity, and the brothers' differently wary interactions with their father feel properly lived-in and anguished.
Unfortunately, once the family dynamics are methodically laid out, O'Connor shifts gears to deliver a rather ordinary sports movie, complete with training sequences and predictable in-the-ring action, although the ferocity of mixed martial arts lends it a scrappy urgency that's missing from conventional boxing movies.
At first, Nolte's grizzled, melancholy turn as the brothers' failed father suggests some of the lumbering power of the actor's glory years, but soon the script gives him a trite storyline to follow in which he falls off the wagon and becomes a cheap emotional prop. Likewise, while Edgerton is ruggedly heroic as a father and husband struggling to support his family, his exchanges with Hardy disappoint because Tommy is so mysterious and withdrawn as to be opaque.
O'Connor deserves credit for trying to enliven the generic contours of the sports film by giving us two protagonists we care about, but Warrior's loyalties soon shift toward one brother over the other, which undercuts that sense of conflicted rooting interests. And while O'Connor wants to humanise his warriors, he mostly falls into melodramatic traps in which the characters yell at each other about their differences in exposition-heavy exchanges or discover deep, dark secrets in achingly clumsy ways.
Production companies: Mimran Schur Pictures, Solaris Entertainment, Filmtribe
Domestic distribution: Lionsgate, www.lionsgate.com
Producers: Gavin O'Connor, Greg O'Connor
Executive producers: Michael Paseornek, Lisa Ellzey, David Mimran, Jordan Schur, John J. Kelly
Screenplay: Gavin O'Connor & Anthony Tambakis & Cliff Dorfman, story by Gavin O'Connor & Cliff Dorfman
Cinematography: Masanobu Takayanagi
Production designer: Dan Leigh
Editors: John Gilroy, Sean Albertson, Matt Cheese, Aaron Marshall
Music: Mark Isham
Website: www.warriorfilm.com
Main cast: Joel Edgerton, Tom Hardy, Jennifer Morrison, Frank Grillo, Nick Nolte