Leon Forde gives an overview of this year's foreign-language film contenders and charts their progress from festival appearances to the Oscars ceremony at Hollywood's Kodak Theater. Plus a look back at Screen reviewers' first impressions of the five nominated films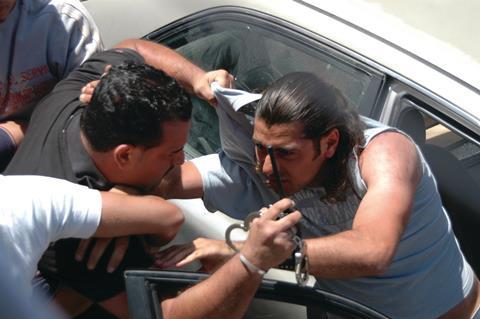 Dirs: Scandar Copti, Yaron Shani
Co-written and co-directed by an Israeli Jew and an Arab-Israeli, Ajami is a powerful crime drama that is set in Jaffa's multi-ethnic neighbourhood of the same name.
The story is told through the eyes of a cross-section of local people, from a young Palestinian refugee who is working illegally in order to raise money for his mother's bone-marrow transplant, to a Jewish policeman obsessed with finding his missing brother. The debut film-makers cast an authentic ensemble of non-actors in the film — including many from the Ajami neighbourhood — and worked with them extensively before shooting.
Produced by Israel's Inosan Productions and Germany's Twenty Twenty Vision Filmproduktion and co-produced by ZDF in association with the UK's Vertigo Films, Ajami received its premiere during Directors' Fortnight at Cannes 2009, where it received a special mention from the Camera d'Or jury.
The film subsequently played at Toronto, Palm Springs, AFI Fest, London and Thessaloniki, among others, picking up accolades along the way. Submitted as Israel's Oscar entry ahead of the Venice Golden Lion-winning Lebanon, Ajami picked up five prizes at the Israeli Film Academy awards last year and was nominated for the European Discovery award at the European Film Awards.
The film is a hit in Israel, with 185,000 ticket sales so far. It opened in New York through Kino International in early February, with a national roll-out to follow from February 19. Vertigo Films is releasing the film in the UK this summer.
Ajami is the ninth nomination for Israel in the foreign-language category.
What Screen said: "Ajami offers a tragic portrait of life in the largely Arab city where it is impossible to live apart but hard to live together, in which family commitments, community obligations and national identities melt into and feed upon each other. Here, the innocents are always the victims."
Dan Fainaru
Dir: Juan Jose Campanella
Confirming his stature as one of Argentina's most successful directors ever, Campanella has snagged his second nomination in the foreign-language category following his 2001 nod for Son Of The Bride. The Secret In Their Eyes is a romantic thriller about a court employee who realises he must complete a novel in order to solve the case on which it is based.
Campanella regular and Argentinian film superstar Ricardo Darin plays the man at the centre of the tale, with Soledad Villamil taking the role as the woman with whom he has an unconsummated love affair.
A co-production between Argentina's Haddock Films and Tornasol Films in Spain, the film has played at Toronto, San Sebastian, Rio, AFI Fest and Mar Del Plata. It has been a hit in Argentina, scoring over $9m since last August, and has taken over $8m in Spain through Alta Films.
The Secret In Their Eyes picked up 13 prizes at the Argentina Academy Awards in December and nine nominations for Spain's Goya awards. Sony Pictures Classics has rights for the US, while Metrodome Distribution is releasing the film in the UK in the summer. Sales outfit Latido Films has sold the film to other territories, including Pretty Pictures for France, Gussi for Mexico and Rialto for Australia.
WhatScreen said: "Campanella's first film since 2004's Moon Of Avellaneda is an unusual combination of frustrated love story and police procedural thriller which packs an emotional punch, despite a rambling mid-section and leisurely pacing throughout."
Mike Goodridge
The Milk Of Sorrow is Peru's first nomination in the foreign-language category and tells the story of a timid woman facing city life in the Peruvian capital, Lima, after her mother dies. The film is informed by a Peruvian belief in a condition believed to afflict those born to women who were raped or abused during Peru's years of terrorism, between 1980 and 1992.
The film is the second feature from Peruvian director Claudia Llosa — following Madeinusa, Peru's submission for the foreign-language Oscar in 2007 — and stars Magaly Solier, who also appeared in Llosa's directorial debut.
The Milk Of Sorrow had a triumphant premiere in Berlin last year, winning the Golden Bear. It then toured the international festivals, including Karlovy Vary, Thessaloniki, London and Guadalajara.
The film is a co-production between Spain's Wanda Vision and Oberon Cinematografica, as well as Llosa's Vela Films in Peru.
What Screen said: "Shot with a mix of carefully framed longshots and mobile close-ups, this measured, mannered film draws strength and authenticity from its location, conveying the sweaty, hard tenor of life in the poor outskirts of Lima where Fausta's family lives; bare, arid hills rise up behind jerry-built houses, brightened inside by garish paint and religious tack."
Lee Marshall
The epic tale of how a young orphan of North African descent rises through the ranks inside a brutal French prison, Jacques Audiard's A Prophet premiered in Competition at Cannes, thrilling audiences with its scope and ambition.
It went on to win the Grand Prix (fellow foreign-language nominee The White Ribbon took the Palme d'Or), played at festivals including Telluride and Toronto, and picked up the London Film Festival's inaugural Star Of London award for best film in October.
A Prophet has also scored 13 Cesar nominations, a Bafta nomination in the foreign-language category and was named the National Board of Review's best foreign-language film. It has made a star out of Tahar Rahim, who delivers a mesmerising performance as Malik, the unassuming new prisoner who learns the ropes from the formidable Cesar. He has also picked up a nomination in Bafta's Orange Rising Star category.
A Prophet is the 36th nomination for France in the foreign-language category and is a French-Italian co-production between Why Not Productions, Page 114, Chic Films, France 2 Cinema, UGC Images, Celluloid Dreams and BIM Distribuzione. The film opens in the US at the end of February through Sony Pictures Classics. In France, the film has taken more than $11m since release last August through UGC, and has grossed $1.1m in the UK since January 22 through Optimum Releasing.
What Screen said: "When it comes to hard-bitten crime cinema, Jacques Audiard has few equals in Europe, and his violent, gripping prison drama
A Prophet shows him extending his range with unimpeachable command."
Jonathan Romney
A pair of Oscar nominations cap a glittering year for Michael Haneke's taut exploration of human malevolence.The White Ribbon picked up the Palme d'Or at Cannes last year, and has been a critical and awards-season favourite. Following its success in Cannes the film has also won a Golden Globe, three European Film Awards and the Screen International Hollywood World Award.
Set in the two years before the start of the First World War, The White Ribbon depicts a town in northern Germany as strange and disturbing events occur.
The ninth nomination for Germany in the foreign- language category, The White Ribbon has also picked up a nomination in the cinematography category for its stark monochromatic imagery, shot by Christian Berger. It is the only one of this year's foreign-language contenders to have scored a nod in another category.
Sony Pictures Classics, which pre-bought the film ahead of Cannes, released the film in the US at the end of December, where it has so far taken over $700,000.
A Germany-Austria-France-Italy co-production between X Filme Creative Pool, Wega Film, Les Films du Losange and Lucky Red, The White Ribbon has taken $5.6m in France, $4.7m in Germany, $1.3m in Spain and $900,000 in the UK.
What Screen said: "When he is on top form, Michael Haneke's artistry and unerring control of his material is hard to beat. And he is on top form in The White Ribbon, a meticulously constructed, precisely modulated tapestry of malice and intrigue in a rural village in pre-First World War northern Germany."
Mike Goodridge