Dir: Anthony Petrou. UK. 2014. 88mins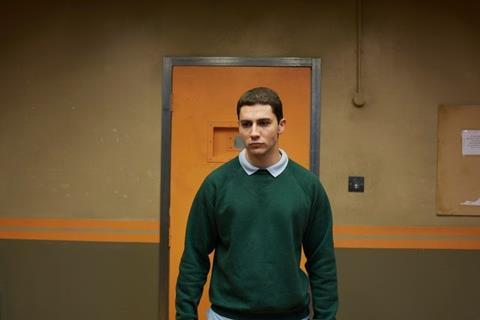 The brutal prison drama is a familiar movie genre, and while this low-budget British film offers no real fresh variation on the theme it does provide an often-mesmerising platform for writer/star Leeshon Alexander in the lead role.
The film is brutal and stark and rarely makes for easy viewing.
It is all nastily familiar stuff as Anthony Petrou's tough film follows real-life Robert Stewart (Leeshon), who while in a juvenile detention centre in 2000 murdered his cellmate Zahid Mubarek (played by Aymen Hamdouchi). The film had its premiere at the Edinburgh International Film Festival.
We Are Monster (a nicely evocative title) follows a relatively straightforward structure, though is given an edge through the device of Stewart's conversations with himself that expose the nastily different sides to his character (and allow for the film's title) and give Leeshon the actor plenty to get his teeth into.
The film opens with Mubarek's murder before switching back to the two first being placed in a cell together, making the nicely developed run-up to the killing all the more chilling, especially given one of the centre's warder's remarking "I'm sure they'll become fast friends in no time". The fact that this dreadful real-life incident was allowed to develop so casually is chilling, with institutionalised racism clearly a major factor.
Aymen Hamdouchi is impressive as the genial Mubarek, though his smiling persona only serves to emphasise Robert Stewart's brutality. The film is brutal and stark and rarely makes for easy viewing, and while there are times when it almost sinks under the weight of its sense of dark anger and depression, it is Leeshon Alexander fine performance that keeps it from sinking under.
Production companies: Unstoppable Entertainment, Terra Rossa Films

Sales contact: Unstoppable Entertainment, www.unstoppableentertainmentuk.com
Producers: Leeshon Alexander, Anthony Petrou, Noel Clarke, Jason Maza, Phil Dore, Dean O'Toole, Jean Pierre Magro

Executive producers: James Taylor, Roxanna Ramtin, Aaron Sawyer, John Smith

Screenplay: Leeshon Alexander

Cinematography: Simon Richards

Editor: James Norris

Production designer: Simon Rogers

Music: Fred Portelli

Main cast: Leeshon Alexander, Aymen Hamdouchi, Gethin Anthony, Justin Salinger, Shazad Latif