Dir/scr: Mario Van Peebles. US. 2012. 104mins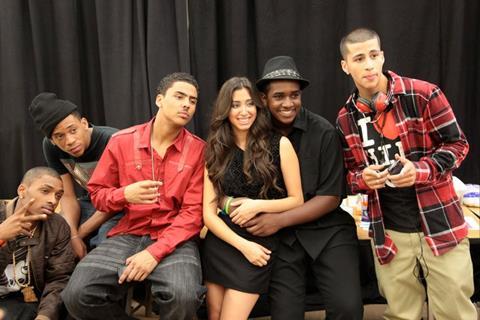 A coming of age story with a black youth culture backdrop, Mario Van Peebles's We The Party is weighed down by worthy intentions, playing like an odd mix of wholesome TV movie and raunchy teen comedy. While the musical acts in the cast might help this party get a start at the box office, traditional fans of the two genres involved will be hard to attract and the action looks likely to move quickly to home video.
The story takes in some swearing, some partying, some near-sex and a bit of drug-taking.
XLrator Media is giving the film a limited US theatrical release - with a barely-earned R rating - on April 6 and may be able to generate initial interest by using social media and other teen-friendly marketing methods. International prospects appear to be very limited given that the cast is mostly made up of relative unknowns.
The action is set in Baldwin Hills, an upscale African-American section of Los Angeles. The local high school draws pupils from rich and rough neighbourhoods and the film intertwines stories of kids from both backgrounds.
The central thread is about Hendrix (Mandela Van Peebles), a smart, likeable kid who nevertheless clashes with his school teacher dad (Mario Van Peebles) as he attempts to save money for a car and get hot girl Cheyenne (Simone Battle) to agree to a prom date.
Other threads take in the efforts of five not-so-hot boys to get laid, the tribulations of the school's disadvantaged hard case (Kennon Jackson, aka rapper YG) and the marital problems of Hendrix's mum and dad. The story takes in some swearing, some partying, some near-sex and a bit of drug taking but reaches its climax over the course of a pretty tame prom night.
None of the threads is particularly involving and when Van Peebles (best known as a director for New Jack City) switches from one to another - sometimes with the use of split screen segments - there are some awkward shifts of tone.
Battle and Mandela Van Peebles handle their roles fairly well but the other performances are a mixed bag. The music - most of it in the 'jerkin' street dance genre - comes not just on the soundtrack but also in performances from YG, The New Boyz and others.
Production company: MVP Films
US distribution: XLrator Media
International sales: XLrator Media, bgordon@xlratormedia.com
Producers: Michael Cohen, Dwjuan F Fox, Joel C High, Tal Vigderson
Cinematography: Anthony Rickert-Epstein
Editor: George Artope
Casting director: Anissa Williams
Music: Tree Adams
Main cast: Mandela Van Peebles, Simone Battle, Moises Arias, Makaylo Van Peebles, Patrick Cage II, Ryan Vigil, YG, Mario Van Peebles