Thor lays siege to a buoyant international market, taking $89.2m at an average of $10,613 in 54 territories.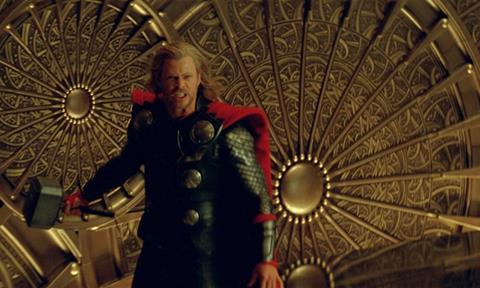 Paramount's action-fantasy Thor leapt nine spaces to top spot on the international chart after its wide international rollout.
The opening haul compares favourably to previous Paramount-Marvel hit collaborations Iron Man, which took $99m from 56 territories in 2009 and Iron Man 2, which took $100m from 63 territories in 2010.
Universal's Fast And Furious 5 remained solid in second place, grossing $46m from 3,207 screens in only 14 territories, at a strong average of $14,402. The latest edition in the stalwart franchise improved its week-on-week performance by 97% and currently stands at $82.6m.
Justin Lin's high-octane action-drama opens in a host of territories this weekend, including France, Italy, Hong Kong and Scandinavia.
Last week's number one film Rio slipped to third, still grossing an impressive $31.5m in its fourth week for a soaring cumulative of $264m. Rio is still playing in a week-high 10,608 screens in 67 territories.
In a quiet week of openings, fourth-placed historical-action The Lost Bladesman was the only other debut among the top 15 films, slicing its way to $15.9m at an imperious average of $29,078 in seven territories.
While the international market flocked to the top four titles - a rare feat in recent months - there was a signifincat drop off after these with fifth-placed Red Riding Hood only taking $5m.
There were strong improvements from Fox's Water For Elephants which jumped from 34th to 8th after grossing $4.6m and IM Global's Insidious which climbed from 66th to 15th after making $2.6m.
Shochiku's Rebirth was the week's only other top 20 debut, claiming $1.9m in Japan.