Fox's Chronicles Of Narnia: Voyage Of The Dawn Treader continued to dominate the international market in its third week, taking $31.5m from 10,107 screens in 61 territories.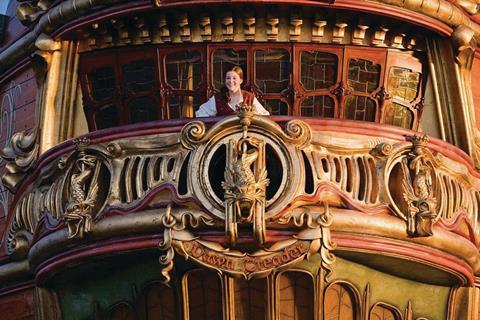 The third instalment in the Narnia franchise is keeping pace up with the The Chronicles Of Narnia: The Lion, The Witch And The Wardrobe, which had also taken $31m by its third week, but from almost half the number of screens.
Jiang Wen's action-comedy Let The Bullets Fly was the highest new entry entering the international chart in second place after taking an impressive $27m from 855 screens and a towering average of $31,552 in China.
Wen wrote, directed and stars in the 1920's story of a notorious bandit who masquerades as the mayor of a provincial town until he meets his match in the shape of a local boss, played by Chinese veteran Chow Yun-Fat. Aftershock director Feng Xiaogang also stars.
The opening ranks as one of China's best this year. Xiaogang's summer hit Aftershock currently ranks as China's highest domestic grosser ever (over $80m), but Let The Bullets Fly could soon challenge Zhang Yimou's action-romance Curse Of The Golden Flowers which took $42.5m in 2006.
Harry Potter And The Deathly Hallows remained strong in its fifth week, making $24m in a week-high 64 territories for a cumulative total of $561.8m.
Disney's Tron: Legacy debuted in fourth place after a $23.3m opening from 4,067 screens in 28 territories. Joseph Kosinski's 3-D spectacular opens in Hong Kong and Russia over the Christmas weekend, Italy the week after, Germany on Jan 27, and in France on Feb 2.
A $6.8m debut in Russia ensured that Bazelevs' comedy Yolki opened in eighth on the international chart, while FilmAuro's perennially popular Italian comedy franchise Christmas In… shot in South Africa for its tenth edition, topping the Italian box office with a $4.7m haul.
Toei's even longer-running action series Kamen Rider X 000 entered the chart in tenth after a number one debut in Japan on $4.4m, while Medusa's La Banda Dei Babbi Natale opened 11th after grossing $3.8m in Italy.
Europa's 17th-placed A View Of Love, Fox's 18th-positioned Love And Other Drugs and Nordisk's 19th-placed Klovn: The Movie rounded out the ten new top 20 entries.
Paramount stalwart Shrek Forever After re-entered the chart in 26th position after a fifth placed debut in Japan, crossing the $500m mark in the process.