Sony's action-comedy The Green Hornet weaved into top spot over the Jan 21-23 weekend, taking $18.5m.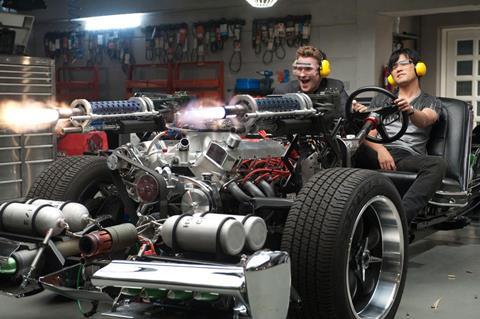 In its second week Sony'sThe Green Hornet took $18.5m from 4,706 screens at a lowly average of $3,937.
Michel Gondry's latest, currently playing in 43 territories, has hit most major openings but reaches South Korea and Italy this weekend, Russia the next and Brazil on Feb 18.
China Film's action-drama Shaolin debuted in second after opening in five territories for $14.4m and a screen average of $21,567, the vast majority of that haul coming from China. Jackie Chan and Andy Lau star in the Benny Chan-directed title about feuding warlords.
Warner's Hereafter leapt from 16th to third in its third week, grossing $13.7m from 1,868 screens at an average of $7,318 in 29 territories. Clint Eastwood's fantasy-drama hits Germany and the UK this weekend, Scandinavia next weekend and Japan on Feb 19.
Last week's top international performer Tangled dropped to fourth in its ninth week, making $11.5m from 4,092 screens in 36 territories. Disney's latest animated family-comedy is their fouth-biggest international performer of the last 12 months, and will overtake The Prince Of Persia this week.Tangled is already the 12th biggest film worldwide and internationally in the last 12 months.
Fox's awards contender Black Swan debuted in fifth place, making $11.4m in only nine territories. With a host of major openings still to come, the ballet-drama looks set for an impressive international total.
Seventh-placed The King's Speech, which has already grossed $50m, is another drama posting impressive totals and is yet to open in France, Germany, Italy, Russia and Brazil.
RAI Trade/01 Distribution scored its best-ever first weekend opening in Italy with comedy Qualunquemente. The latest in a succession of hot local comedies, the Fandango-produced title about a sex scandal-ridden politician scored $8m and a sumptuous $14,460 screen average.
There were three more top 20 debuts: the feature adaptation of popular local animated TV series Pleasant Goat and Big Bad Wolf 2011 took 7.5m for Shanghai Eastern in China; The Very Best Movie 3D opened top in Russia on $6m and Medusa's comedy Immaturi took $4.8m in Italy.