Battle: Los Angeles and Rango flip-flopped at the top of the international chart, with Sony's first-placed action-sci fi taking $28.7m.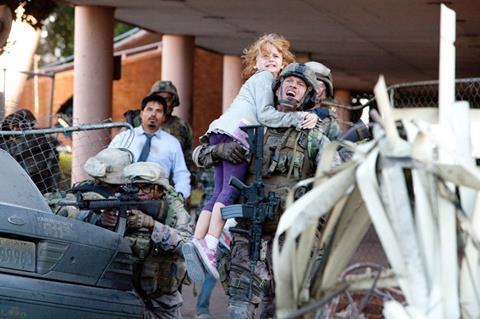 Sony's Battle: Los Angeles gained one spot in its second week to lead the international market, grossing a strong $28.7m from 8,384 screens in 52 territories.
The film improved its performance by 78% and has now grossed $51.7m with openings in Spain, Germany and Italy to come in April.
Paramount's animated comedy Rango slipped to second, taking $19.4m (for $73.5m) in 53 territories, a 19% week-on-week decrease in profits.
FilmNation/The Weinstein Company's The King's Speech continues to rake in double digits, making $11.8m from 53 territories and, phenomenally, is approaching the quarter of a billion mark.
UIP's Russian comedy Office Romance debuted in fifth on the international stage, taking $7m from 1,023 screens at an average of $6,846, with the film coming top of the local box office ahead of US openers Rango, Limitless and Red Riding Hood.
Sarik Andreasyan's remake of the hugely popular 1977 screwball comedy of the same name charts the uneasy evolution of a relationship between an office manager and her subordinate.
Eighth-placed crime-action-comedy Torrente 4 continued to top the box office in Spain, making a further $5.3m from 665 screens for a top ten-high screen average of $7,991. As previously reported the record-breaking fourth instalment in the franchise has already amassed $20m in two weekends.
Lionsgate's thriller Limitless debuted at 11th after taking $5.1m from 914 screens in five territories, with openings to come this weekend in the UK, Spain on April 8, Germany on April14, and Nordic territories across April.
Warner Bros' fantasy-thriller Red Riding Hood leapt 28 places in its second week, grossing $4m for $6.1m from eight territories. Twilight director Catherine Hardwicke's update on the classic fairytale stars Amanda Seyfried as a young girl in a medieval village haunted by a werewolf. It reaches the UK, Spain, Germany and Italy in April and France in May.
Studio Canal's comedy-drama Ma Part Du Gateau was the only other top 20 new entry making $3.4m from 492 screens in France and Switzerland.
RAI Cinema comedy Nessuno Mi Puo Giudicare opened top in Italy on $2.9m with writer Fausto Brizzi also scoring success with the territory's second-biggest film, FilmAuro's Amici Miei - Come Tutto Ebbe Inizio, which took $1.7m in 28th on the chart.
Toei's anime Pretty Cure All Stars 3 opened on only 130 screens in Japan, making $1.7m in the troubled local market.