Pirates of The Caribbean: On Stranger Tides laid siege to the international market, grossing a record-breaking $222m over three days.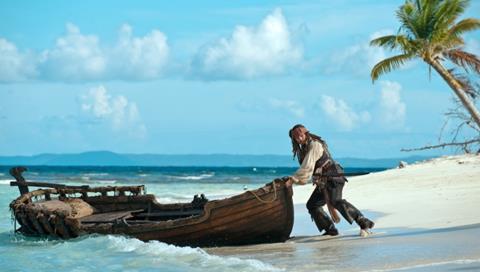 Disney's fourth instalment in the mega-franchise took an epic $260m including previews, as previously reported.
The film overtook Harry Potter And The Deathly Hallows: Part One ($193m) as the biggest 3-day international opening and Harry Potter And The Half-Blood Prince ($237m) as the biggest opening including previews.
Pirates easily topped the charts in all the major territories, scoring big in the UK, Japan, Germany, France, Russia, China, South Korea, Australia, Brazil, Spain and Italy.
The film is already the third biggest international film of the year and will become the highest earner next week.
Universal's second-placed Fast Five continued to impress in its fifth week, taking $26.3m for $322.2m, overtaking fourth-placed Rio as the highest international grosser of the year in the process.
However, Fast Five was the only film other than Pirates to gross double digits as the rest of the chart lacked any kind of depth. With all eyes on Pirates, only 18 films managed over $1m this week — compared with 36 last week.
Sony's Priest was the biggest faller in the top ten. The thriller's $4.3m haul in 43 territories represented a 75% week-on-week drop.
Seventh-placed Korean family drama Sunny continued to perform well, making a further $3.8m for CJ Entertainment. The highest non-US entry (and only non-US film in the top ten) has now taken $18m in its local market.
Fox's tremendously resilient Black Swan is still in the top ten in its 18th week, entirely thanks to its recent opening in Japan, while tenth placed Palme d'Or winner The Tree Of Life was the week's second-highest debut, making $2.1m from five territories.
The only other top 20 debuts came from Gaumont's 12th-placed Nicolas Sarkozy biopic The Conquest, which took $2.1m from three territories and Viacom 18's 18th-placed romance-comedy Pyar Ka Punchnama, which took $1m in eight markets.