Dirs: Turner Ross, Bill Ross IV. US. 2015. 93mins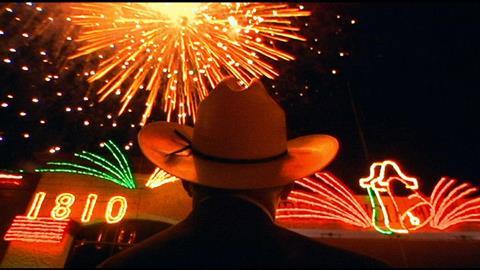 A tough, unsympathetic portrait of the American/Mexican border that's more of an immersive, expressionist snapshot than a definitive overview of the region and its myriad challenges, Western has an intelligent, intuitive design which captures the essence of everyday life with an offhand grace. The latest documentary from Turner Ross and Bill Ross IV (45365, Tchoupitoulas), this film offers no answers about drug violence, illegal immigration or the tensions between Texas and its southern neighbours. But as a dreamy yet concrete evocation of lives beset by unseen anxieties and dwindling resources, Western has a mythic quality in keeping with its totemic title.
What could have been an issue doc is, instead, a deeply felt human perspective on front-page news, transcending topicality to get at something elemental about existence and resilience
Having won a special jury award at Sundance for its vérité filmmaking, Western should tour other documentary festivals such as True/False, hoping for the theatrical distribution which would best emphasise its widescreen visuals. Especially in the States, where border security and immigration reform remain hot-button topics, Western could find a receptive audience. Additionally, the Ross brothers' previous films have been critical sensations, garnering a discerning art-house following; it's hard to imagine their latest won't follow suit.
Over the course several months, the movie introduces us to its central figure, Chad Foster, a mayor of the small Texas town Eagle Pass, whose sister city Piedras Negras is right across the border in Mexico. A charming older man with a white moustache and an omnipresent cowboy hat, Foster has a good relationship with his constituents as well as the citizens of Piedras Negras. Despite tensions between the two countries, Foster believes that Eagle Pass and Piedras Negras can live in harmony, their shared interests more potent than any differences.
But as the Ross brothers illustrate in understated ways, the goodwill Foster has accrued can only go so far. Drug cartels are beginning to kill innocents, forcing the US federal government to crack down on the border. This has repercussions across the region, and Western focuses on one affected person, a cattleman named Martín Wall, who brings livestock from Mexico into Eagle Pass. The crackdown seriously imperils his livelihood and puts his family's future in doubt.
Though it would be a mistake to describe Western as plotless, the Ross brothers don't force a narrative onto the events they record. Rather, the encroaching violence and the US response are part of the documentary's tapestry of incidents and individuals, asserting themselves subtly but insistently until they simply cannot be ignored any longer.
Using Foster and Wall as their guides into this world, the Ohio-based filmmakers seem to let curiosity dictate their direction. Western doesn't hammer home its political messages, but what we see in Eagle Pass and Piedras Negras are towns that don't feel distinctly American or Mexican but, instead, are an uneasy mixture of the two cultures. Neither community is doing well financially, and so the film explores a region which feels behind the curve, practically lost in time. (Scenes of bullfighting and rodeos intermingle with firework celebrations and lively fairs.) Naming the film Western, the Ross brothers are perhaps suggesting that this is the new landscape of the West, one that can be brutal and primitive but also beautiful and free.
There are what might be called twists as Western rolls along, some more shocking than others. (The possible death of a major character is quickly waved away when he appears unscathed in the next scene, the previous situation never mentioned again.) Western may meander at times, but in the best possible sense this documentary floats from scene to scene, the fear of possible cartel violence as real and as ephemeral as any other sensation. Shot by the Ross brothers on DVX cameras, Western has a digital, muddy look that demystifies the grandeur of the West while adding new elements of mystery and uncertainty. What could have been an issue doc is, instead, a deeply felt human perspective on front-page news, transcending topicality to get at something elemental about existence and resilience.
Production company: Court 13
International sales: Sara Sampson, sarasampsonpr@gmail.com; and Ryan Werner, rtwerner@gmail.com
Producers: Turner Ross, Bill Ross IV, Michael Gottwald
Executive producers: Dan Janvey, Josh Penn, Libby Thompson, Bill King
Cinematography: Turner Ross, Bill Ross IV
Editor: Bill Ross IV
Music: Casey McAllister
Website: www.rossbros.net