Dir: Nadine Labaki. France-Lebanon-Italy-Egypt. 2011. 100mins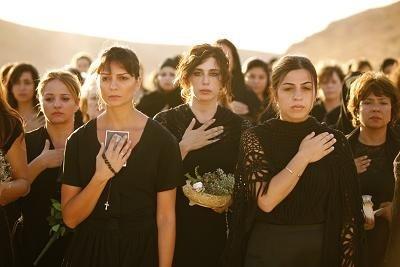 In Nadine Labaki's 2007 debut Caramel, clients at a Beirut beauty salon shared an empathy beyond the religious divide. Following up with Where Do We Go Now? (Et Maintentant On Va Ou?), Labaki extends the remit to form a benign matriarchy in a war-torn village, presumably in her native Lebanon (the precise locale is not specified).
Labaki's film is as warm and welcoming as the women on screen and her message a very timely reminder of the issues at hand.
Charmingly good-natured and well-intentioned, if occasionally overwrought, Where Do We Go Now? is very broadly-drawn and encounters some tonal problems which may see it fall short of Caramel's success. Its resolutely upbeat and open-hearted approach to conflict resolution could see it win hearts on festival and art-house circuits, however, and Labaki again proves herself capable of drawing the most natural performances from her actors. Perhaps to the detriment of her own plot strand Labaki also stars as Amale, the village's Monica Bellucci, who starts out with a kohl-eyed pout but her role and inter-faith romance dwindles away to nothing.
In Labaki's un-named village, Muslims and Christians live out a tempestuous relationship that is fundamentally loving but prone to hair-trigger outbursts between its aggressively Mediterranean male occupants. The women all get along famously, united in their grief over their lost sons and husbands, victims of a seemingly never-ending war. If only the women could take charge…
This village is fundamentally cut off from the outside world due to a broken bridge and is a warmly-lit, joyful sort of place (musical interludes, tangerine twilights, fairy lights and candles in the town square as the cuddly mayor gets the only TV to work). Christian mother Amale, who runs a cafe (shades of Pomengranates & Myrrh) pines for tattooed Muslim decorator Rabih (Farhat).
But unlike the women, who march together to the cemetery before filing off in different directions to mourn, the men are prone to bovine outbursts of rage which escalate simmering religious tensions.
They are apparently being provoked by a prankster who puts blood in the water font and opens the door of the mosque to let the goats in (although this plot strand also peters out along with Amale and Rabih's romance).
The women bond together to keep the peace as the men work against it in various push-and-pull scenarios that are deftly executed by Labaki. They cut the wires to the TV to block out the news, disconnect the radio, and even pay a band of Ukrainian showgirls to pretend to be stranded for a week in order to distract their menfolk. But then the men's shoes are stolen from outside the mosque and the village seemingly cannot withstand another outbreak of hostilities.
A push into high drama leads it into deeper, more anguished territory without the requisite support framework. Technically, though, Labaki's film is as warm and welcoming as the women on screen and her message a very timely reminder of the issues at hand.

Production companies: Les Films des Tournelles, Pathe, Les Films de Beyrouth, United Artistic Group, Chaocorp, France 2 Cinema, Prima TV.
International sales: Pathe, www.patheinternational.com
Producer: Anne-Dominique Toussaint
Screenplay: Nadine Labaki, Jihad Hojeily, Rodney Al Haddid
Cinematography: Christophe Offenstein
Editor: Veronique Lange
Production designer: Cynthia Zahar
Music: Khaled Mouzanar