Dir: Terry George. UK. 2012. 89mins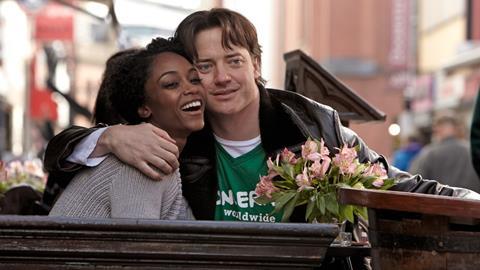 Belfast-born writer/director Terry George heads back to his home town for this engaging crime comedy which might have the structure of a low-budget affair but is boosted by a genial performance from Hollywood star Brendan Fraser.
Whole Lotta Sole is effortlessly watchable.
Whole Lotta Sole, which had its world premiere at the Tribeca Film Festival, has the knockabout credentials to appeal to niche distributors while strong performances by the like of Fraser, Colm Meaney, David O'Hara (the heavy of choice in so many films) and YaYa DaCosta make it an attractive title for home entertainment.
After making weightier films such as Hotel Rwanda and Reservation Road, it is nice to see Terry George deliver a nicely balanced crime comedy that while resolutely Belfast-based – and making good use of accents and locations – is also an accessible and amusing format.
At the centre of the story is hapless young father Jimbo Reagan (Martin McCann) whose owes money to local gangster Mad Dog Flynn (a suitably menacing O'Hara). After borrowing an ancient Thompson submachine gun that had been stashed by the IRA decades ago, he attempts to rob the local fish market, only to find out post-robbery that it is a front for Flynn's activities and the bag of cash he steals also contains records about his operation.
Attempting to escape he ends up – with his baby in a pram for company – taking a series of hostages, amongst them American Joe Maguire (Fraser) and Sophie (DaCosta), who Maguire has just started dating. Holed up in the antiques shop Maguire is running, Reagan soon finds things spiraling out of control as police – headed by Weller (Colm Meaney) – and even the SAS take up position outside the shop.
Things get seriously complex during the siege (sub-plots include the antics of two young traveler boys; debate whether Maguire might actually be Jimbo's father and Mad Dog taking position across the road with a rocket launcher) before the film's nicely tied-up resolution.
There is even a delightful uncredited cameo from Brit actor Tom Hollander as a government minister (in a rather familiar role to the one he played in 2009's In The Loop) who tells police to keep the SAS in the loop.
Brendan Fraser is a warm presence and works well with the delightfully strident YaYa DaCosta, while Colm Meaney is a solid and reassuring presence and handles the comedy with ease. In truth Whole Lotta Sole offers nothing original or imaginative in terms of structure of filmmaking style, but it is effortlessly watchable.
Production companies: Generator Entertainment, Media Pro Six, Menio Park Productions
International sales: WME Entertainment, www.wmeentertainment.com
Producers: Terry George, Simon Bosanquet, David Gorder, Jay Russell
Executive producers: Brendan Fraser, Michael Henry, Mark Huffam, Robert Lewis, David Rogers, Jeff Steen
Screenplay: Terry George, Thomas Gallagher
Cinematography: Des Whelan
Editor: Nick Emerson
Production designer: David Craig
Main cast: Brendan Fraser, Colm Meaney, David O'Hara, Yaya DaCosta, Martin McCann, Emma Hamilton