Dir/scr: Pedro Pérez Rosado. Spain 2011. 88mins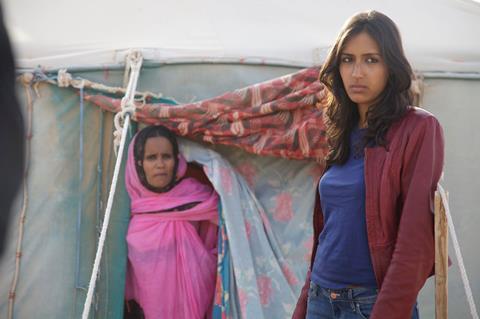 A young woman returns to her Saharan roots in Wilaya, a drama that borders on ethnographic documentary territory, with a strong feminist slant. A Spanish production made in association with the Sahrawi Democratic Arab Republic – with dialogue in Spanish and Arabic – Wilaya offers insight into a little-publicised world, and derives most of its dramatic pull from the charismatic presence of lead actress Nadhira Mohamed.
Wilaya offers a worthy representation of the Sahrawi experience, rather than drawing satisfying drama from it.
Pedro Pérez Rosales's film is informative rather than narratively gripping, and its low drama content, plus a somewhat monotonous austerity in its images of desert life, will make it a hard sell. Festivals in the human rights and documentary fields are its most likely platforms.
The film is set in a Saharan wilaya, or province, in Algeria, in an area formerly under Spanish rule. Twenty-something Fatimetu (Mohamed) is a thoroughly Westernised young woman, who was sent to live with foster parents in Spain at the age of 10. Now, following the death of her mother, she has returned to visit her family in one of the many refugee camps in which the Saharan population (150,00 people with no passports, we are informed) now live.
There she is reunited with her disabled sister Hayat (Memona Mohamed), who teaches children with learning difficulties, and her brother Jatri (Mouloud), whose wife Aichetu (Lasria Gasem Mohamed) is pregnant. There the beautiful Fatimetu, a.k.a. Fatima, who's recently split from her boyfriend in Spain – catches the eye of a handsome young man, Said (Sidagmet). He's wary of her Westernised manners and clothes – notably, she's the only woman here who goes about with head uncovered – but is attracted to this unfamiliar beauty, as well as seeing her as a possible way of getting to Spain, to search for his own father.
As Fatimetu gets to know the wilaya people, she decides to stick around and help – signing up for a job delivering food locally – when not mulling over her Arabic roots and acquired Spanish identity. The film occasionally overstates the cultural-difference theme – in one scene, Fatimetu prefers to sunbathe on the bonnet of her car, while other women pray to Allah.
But insights into a politically abandoned community, and ways of lide in a remarkably inhospitable terrain, are intriguing, especially as seen through the eyes of Fatimetu, who's at once insider and outsider. Oscar Duran's widescreen photography gives the visuals a sweep that the drama lacks, with interiors in houses and tents getting a rosy glow that makes for visual variety. Aziza Brahim's Arabic music – heavy on ouds and other string instruments – bolsters a generally leisurely feel. But overall, Wilaya offers a worthy representation of the Sahrawi experience, rather than drawing satisfying drama from it.