Dir. Alain Resnais. France-Italy. 2009. 104 mins.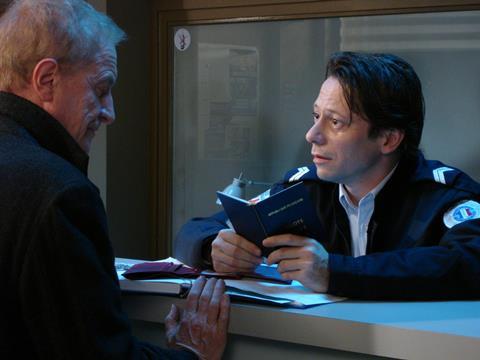 Alain Resnais' Wild Grass showcases one of the great masters of modern cinema with a romantic fantasy which displays the comfortable but consummate confidence of an artist who knows exactly what he wants to do and how to do it. If, once upon a time, audiences were scared away by the complexity of his work, here Resnais is offering a deceptively simple and elegant picture, which will grow in depth and meaning with every additional viewing. It's evidently not one for wide commercial release, but beyond the festival circuit, select international art houses should show interest.
Working from Christian Gailly's novel L'incident and using two of his favourite actors, Sabine Azema and Andre Dussollier, Resnais uses an ever-present off-screen narrator (Baer), to follow the last fling of middle-aged Mr. Palet (Dussollier). He accidentally finds a wallet belonging to the similarly middle-aged and charming dentist Ms Muir (Azema).
M. Palet is married, has grown-up children, while Mme. Muir is single. M Palet lives in his imagination no less than he does in real life, although he never shows it, while Mme Muir likes to believe she's a realist but can't resist a gentle streak of madness that erupts from time to time.
When M. Palet finds the wallet, he can't stop fantasising about the woman who lost it, especially because she has a licence to fly planes, something he always dreamed of doing. He brings the wallet to a local policeman (Amalric), but then tries to contact her personally. Initially, she feels threatened and makes a complaint, but later curiosity gets the better of her.
In a certain sense, this is a natural extension of Resnais' earlier Private Fears In Public Places. The leading characters are on the line which separates maturity from old age. In a certain respect, life holds no more promise for them - whatever they haven't achieved yet seems unlikely to be achieved now and the fear of loneliness is weighing heavy. There's a temptation there to try something new, whether it be an affair with a strange woman or flying for the first time. That these urges are cloaked behind courteous manners does not mean they do not erupt once in a while,.
Andre Dussollier, in a far from simple role, has to hint alternately at a possibly sinister past, at unsavoury present intentions, while suggesting he may not quite be in control of his own actions and somehow make this all feel warm and sympathetic. He does this with an effortless ease, as does Sabine Azema, who looks, acts and dresses like an independent woman, but always implies a slight edge of vulnerable insecurity hidden behind the self-assurance.
Anne Consigny's understanding spouse and Emmanuelle Devos as Ms. Muir's business partner provide excellent support. As for quotes, winks and references for the connoisseurs, there's plenty of stuff to keep them busy. (The opening is a nod to Truffaut's L'homme Qui Aimait Les Femmes, Ms. Muir is of course the heroine of the classic Mankiewicz picture bearing her name, etc). With splendid camera work by Eric Gautier, Jacques Saulnier's sets eloquently provide the right background. Perfectly paced, this realistic fairytale is orchestrated with something of a magic touch by a director who can't seem to put a foot wrong, even as he approaches his 87th birthday next month.
Production companies
F Comme Film
StudioCanal
France 2 Cinema
BIM Distribuzione
International sales
Orly Films
(33) 1 53 23 95 00
Producers
Jean-Louis Livi
Screenplay
Alex Reval
Laurent Herbiet
Based on L'incident by Christian Gailly
Cinematography
Eric Gautier
Production designer
Jacques Saulnier
Editor
Herve de Luze
Music
Mark Snow
Main cast
Sabine Azema
Andre Dussollier
Anne Consigny
Emmanuelle Devos
Mathieu Amalric
Michel Vuillermoz
Edouard Baer