Dir: Manuel von Stürler. Switzerland 2012. 90mins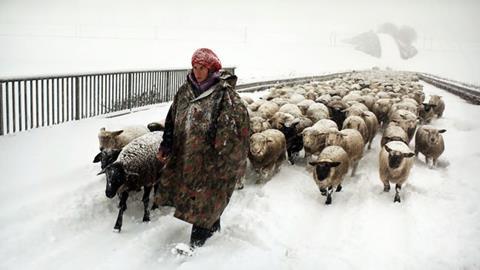 Director Manuel von Stürler may be pulling the wool over our eyes just a little with Winter Nomads, his documentary about two Swiss shepherds and 800 sheep on the move. Given that the director and Claude Muret jointly receive a screenplay credit, it's a moot point whether certain episodes in the film are staged for our benefit, or whether this is strictly an observational piece.
A folksy acoustic score helps warm things up nicely, and the overall cuteness factor goes without saying.
But, either way, Winter Nomads (Hiver Nomade) is a hugely absorbing evocation of a little-known aspect of rural European life, and uses its slender visual resources – lots of snow, lots of sheep and two humans swathed in winter gear – to terrific effect. What emerges is at once a character portrait of two unconventional social outsiders, and a picture of a trade that most of us probably didn't know had endured in modern Europe.
Given the interest in recent US shepherding documentary Sweetgrass, and the success of goat-oriented Le Quattro Volte, this modest yet hugely engaging piece should find moderately good grazing on the art-house circuit, and score three bags full at fests.
The two humans mainly seen amid the film's snowscapes are Swiss shepherds Pascal Eguisier and Carole Noblanc. Veteran Pascal is a taciturn, bearded man, who still chooses to wear the traditional Swiss shepherd hat (a sort of shaggy fedora), while Carole is a quiet, youngish woman who mainly keeps her counsel and for much of the time disappears under a voluminous oilcloth coat. The film follows them as they lead their 800-strong flock (plus three donkeys and four dogs) on a 600 kilometre journey across French-speaking Switzerland: the point of the exercise is 'transhumance', the moving of the flock from one grazing area to another.
It's never made plain exactly what the relationship is between Pascal and Carole, other than between gruff boss and long-suffering apprentice. A weathered master of his trade, Pascal has no compunctions about humiliatingly reading Carole the riot act in front of the camera, over some seemingly minor misstep; Carole's cheerful unflappability suggests either that such scenes are set up, or that she's used to taking his moods in her stride.
We're left to make our own conclusions about the intimate living conditions the pair share on their journey, but it's only towards the end – when Carole confides her back story about how meeting Pascal changed her life – that it's suggested that the pair might be a couple.
Not that there's much time for personal interplay en route – the arduous journey, the largely bitter winter weather, and the imperative to keep their animals heading in the right direction, all keep the shepherds, and von Stürler, concentrated on the mission at hand. There are other human presences: the pair visit friends, chat with locals who wax lyrical about the charm of sheep, and the duo's boss, Jean-Paul Peguiron, occasionally drops by to trade affable badinage.
There are variously droll incidents along the way: wayward donkey Figaro gets a telling-off; the shepherds share a Christmas dinner of oysters by firelight; and, early on, Noblanc's pocket turns out to contain a small puppy, which by the end of the film, has started its own apprenticeship in sheepdog skills.
The film is clearly a picture of a disappearing way of life, although the film never harps on this; it's more insistent on the unexpected job satisfaction to be gained, with the shepherds concluding after a tough winter that it's all been a good job well done.
Although the visual possibilities of the trek seem limited, cinematographer Camille Cottagnaud makes the journey more than vivid, the patterns made by sheep in landscapes prove as mesmerizing in their abstract beauty as they did in recent Welsh docu sleep furiously. A folksy acoustic score helps warm things up nicely, and – while sheep can't equal the personality of Le Quattro Volte's goats – the overall cuteness factor goes without saying.
Production company: Louise Productions
International sales; Louise Productions, info@louiseproductions.ch
Producers: Elisabeth Garbar, Heinz Dill
Cinematography: Camille Cottagnoud
Screenplay: Manuel von Stürler, Claude Muret
Editor: Karine Sudan
Music: Olivia Pedroli