It's a kind of closing of the circle for German-born Hollywood director Wolfgang Petersen with his latest film project Vier gegen die Bank.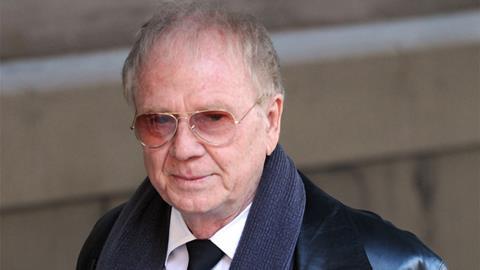 After being one of the first intake of students at the German Film & Television Academy (dffb) in West Berlin in 1966, the director of such international hits as The Boat, In The Line Of Fire and Air Force One is now back in Germany to make his first film on German soil for 30 years and his first project in his mother tongue since Das Boot in 1981.
Petersen's choice of project for his return to the homeland is also returning to familiar ground.The co-production by Hellinger Doll Filmproduktion with Warner Bros. Film Productions is based on the director's own successful TV film which was made in 1976 for the ARD network and adapted from Ralph Maloney's 1972 novel The Nixon Recession Caper, about four members of an exclusive country club who decide to rob a bank to solve their money problems.
In the new screenplay by Tripper Clancy and Lucy Astner (screenwriter of Der Nanny), the four men – played by Germany's acting elite Til Schweiger, Matthias Schweighöfer, Michael 'Bully' Herbig and Jan Josef Liefers – are from the middle class rather than the wealthy upper class – and the plan to rob a bank is born after their bank manager lands a total write-off when investing their life's savings.
"It made sense to come to Berlin for the film because the city is known throughout the world and it was particularly attractive for me to make a film in Berlin in the winter. It can be really grey and cold, and we might even get snow. I want to show Germany in winter, that's quite a contrast from sunny Hollywood," the 74-year-old director explained at a press conference in Berlin today.
Principal photography will begin on November 30 and the production will shoot at over 60 locations throughout the German capital, including the buildings of the former Tempelhof Airport. "The city has great locations and we will be showing places that one doesn't normally get to see," Petersen said. "It will be a quite different way of shooting from [making] my films in the States. We will be almost only on location and that's something which interests me in particular. It even reminds me a little of the time when I worked for television in the 70s."
For example, in episodes of the Tatortcrime series, he launched the careers of such actors as Nastassja Kinski and Jürgen Prochnow."After having made so many American films and big blockbusters, [Vier gegen die Bank] is something really fresh and a real challenge," Petersen observes, pointing out that the comedy genre will be quite a new experience for him as well.
And naturally, the opportunity to shoot in the German language is something that he grabbed with both hands after spending 27 years living in the States. However, coming home for this project does not mean that the Stateside chapter is being closed. Far from it. Petersen says that he has several more projects planned in both the US and Germany, and his production company Radiant Film's TV division has been actively pursuing projects in the light of the current interest in quality TV projects.
He explains that there has been such a hiatus since his last feature project, 2006's Poseidon, because of the uncertainity in the industry caused by the global economic crisis and the studios' subsequent concentration on superheros and the mainstream.
"Films like In The Line Of Fire or The Perfect Storm are practically not being made anymore, so we reacted to this by developing projects for television," he explains, adding that he will be aiming in future to make films for adults rather than for teenagers. Films like The Martian or Gravity have given him the feeling that "the doors seem to be opening again and that's where we want to get in."
Principal photography on Vier gegen die Bank will continue in Berlin until February, with Petersen overseeing the editing back home in Los Angeles. Warner Bros. Picture Germany will release the film for Christmas 2016.