Dir/scr: Robert Weide. US. 2011. 109mins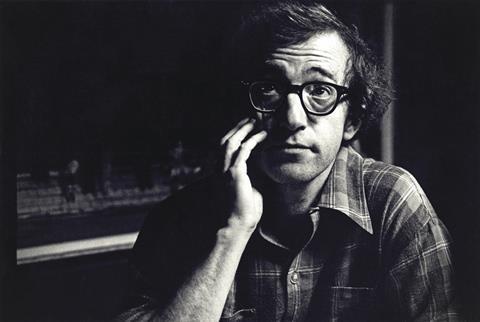 A delightful delve into what makes Woody Allen tick as a filmmaker, director Robert Weide's illuminating, amusing and entertaining documentary offers a rare insight into a director usually very reticent about discussing his work, and despite being very formal in linear in structure, it is a film the quite simply leaves you wanting more as it charts the life and works of this prolific filmmaker.
The most intriguing moments in the film are when Allen talks openly and candidly about how he works.
Woody Allen: A Documentary began life as a two-part programme for PBS American Masters on US television, where in screened over two nights in November last year, but it works equally well as a one-off arts documentary and should also appeal to distributors as well as film festivals who may be keen tie-in a retrospective.
It is oddly refreshing to watch a biographical documentary that favours the straightforward approach of starting at the very beginning. In fact the early reminiscences of his school days and how he started writing gags for newspapers are quite fascinating, especially when taken into context of his youth in Brooklyn and early obsession with cinema and showbusiness and how they played a part in later films, such as Broadway Danny Rose and The Purple Rose Of Cairo.
With comments from the likes of talk show host Dick Cavett (who relished having Allen on his show) and his sister Letty Aronson, the film features footage of his early standup routines – where his on-stage nervousness initially bemused and eventually engaged audiences – with main attention paid to his main attribute…that he was always brimming with comedy ideas and was always writing.
After the unhappiness of seeing how his script for What's New Pussycat was changed out of all shape, his determination to always have control saw his making a series of films – such as Take The Money And Run, Bananas and Sleeper – that worked for audiences and confirmed his unique comedy vision.
The film sees a series of writers, cinematographers, actors (including Diane Keaton, Scarlett Johansson, Tony Roberts, Mariel Hemingway and John Cusack) and even a rival filmmaker (fellow New Yorker Martin Scorsese) offer up their views and experiences. The film also tackles – in a roundabout and non-confrontational way – his relationship with Soon-Yi Previn, mainly through images and comments from others. Allen himself never talks about her.
The most intriguing moments in the film are when Allen talks openly and candidly about how he works. He talks with affection about the old manual typewriter that he has had for years and still writes all his scripts on, and how his 'cut and paste' technique involves paper, scissors and staples. Engagingly he also plonks himself down in his bed to sift through his stash of comedy ideas…a series of bits of paper where over the years he has jotted down concepts and possibilities.
Production companies: Rat Entertainment, Mike's Movie, Insurgent, Thirteen's American Masters
International sales: HanWay Films, www.hanwayfilms.com
Producer: Robert Weide
Executive producers: Michael Peyser, Brett Ratner, Fisher Stevens, Andrew Karsch, Erik Gordon,
Editors: Robert Weide, Karoliina Tuovinen
With: Woody Allen, Letty Aronson, Antonio Banderas, Javier Bardem, Penelope Cruz, Scarlett Johansson, Diane Keaton, Sean Penn, John Cusack, Naomi Watts, Owen Wilson, Larry David, Martin Scorsese, Josh Brolin, Robert Greenhut, Julie Kavner, Louise Lasser, Martin Landau, Tony Roberts, Diane Weist, Chris Rock, Mira Sorvino