Dir: Ignacio Ferreras. Spain. 2011. 89mins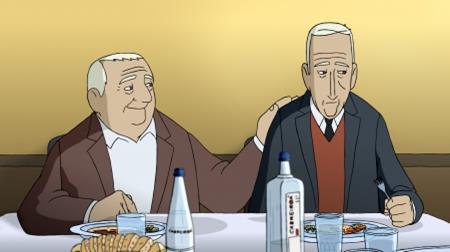 Spain's Ignacio Ferreras worked on Sylvain Chomet's Oscar-nominated The Illusionist and he carries the flame forward here with the moving cel animation Wrinkles (Arrugas), easily one of the better films to emerge from San Sebastian this year.
Voice performances by the two central characters are strong.
With its poignant story of two old men in a care home, Wrinkles will certainly face stiff commercial hurdles for any distributor who steps up to the plate, however, although its high quality should see it win specialised and festival exposure while critical support is likely to be strong.
Although Ferreras, adapting Paco Roca's award-winning graphic novel of the same name, has set about a deliberately old-fashioned 2D animation, there's something cumulatively liquid and living about his images. Retrospectively, at least, his characters appear as flesh in the mind and the characterisation is notably strong throughout, particularly in the case of Miguel (voiced by Tacho Gonzalez), a sharp operator in a luxury care home to which former bank manager Emilio (Alvaro Guevara) has been sent by his despairing family.
Emilio has Alzheimer's - a cinematic taboo - and has been placed in a room with Miguel, who guides him through the daily routine of the care home and introduces him to its inhabitants. While Emilio struggles to come to terms with the inevitable progression of his illness, Miguel is a cynical, uncaring loner who cons some of the facility's more deluded residents out of money they don't realise they have.
How the mismatched couple face up to each other and the situation they are in is the real strength of Wrinkles, and Ferreras/Roca are bold in their usage of flashback and multiple story lines with defined stylistic shadings to flesh out their characterisations.
Some of the story's other aspects are more broadly sketched, however, and they could occasionally be accused of labelling out the pathos too liberally in this care home where the inhabitants are universally avoided by their selfish offspring, depicted as visiting once a year at Christmas. There are nicely-judged moments of humour, however, and Wrinkles restrains itself in a most dignified manner when it comes to the inevitable, but tender, denouement.
Voice performances by the two central characters are strong, although this would not overly-suffer through intelligent dubbing should it ever get an international release, as secondary voicework can come across as stock.
Production companies: Perro Verde Films, Cromosoma
International sales: 6 Sales. www.6sales.es
Producers: Manuel Cristobal, Oriol Ivern
Executive producers: Maria Arochena, Angel de la Cruz, Toni Marin, Tono Folguera, Daniel Martinez
Screenplay: Paco Roca, Ignacio Ferreras, Rosanna Cecchini, Angel de la Cruz, from the graphic novel by Paco Roca
Editor: Ignacio Ferreras
Artistic director: Paco Roca
Animation supervisor: Baltasar Pedrosa
Cinematography: David Cubero
Music: Nani Garcia
Main cast: (voice) Alvaro Guevara, Tacho Gonzalez