Dir: Eran Riklis. UK-Israel-France. 2012. 107mins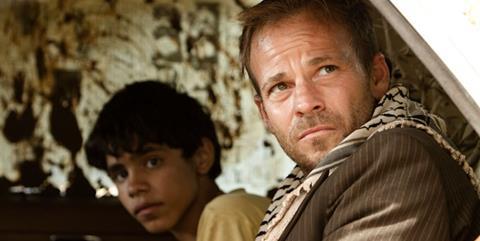 The long history of conflict between Israel and Palestine scarcely lends itself to feel good drama but Israeli director Eran Riklis successfully works against the grain of expectations to find a glimmer of hope in the bleakest of circumstances. Zaytoun (the Arabic word for olive) is a quietly moving portrait of the fleeting bond forged between an Israeli pilot and a young Palestinian refugee during the war between Israel and Lebanon in 1982.
Stephen Dorff is reliably solid as Yoni but the young Abedallah El Akel proves to be a screen natural as Fahed.
The film's positive message and engaging performances should win it much wider exposure on the Festival circuit with some theatrical potential for specialist distributors.
The Beirut of 1982 may have been defined by its rubble-strewn streets, bombings and sniper attacks but for the Palestinian refugee Fahed (Abedallah El Akel) it is also a fantastically exciting adventure playground. As the camera energetically weaves through the streets and back alleys, there is a real sense of vitality to the location as Fahed sells cigarettes and gum, plays football with his friends and runs for his life with spaniel Churchill alongside him.
Riklis is equally committed to showing the seriousness of the situation as friends and family are killed and duly take their place in the list of martyrs Fahed keeps in his school jotter.
Raised to hate the Israelis, he is an eager participant in boot camp training to build the skills that will allow him to play his part in liberating his beloved Palestine. His dream is to return to his village and plant the olive tree that his father has nurtured in their absence.
His life is changed when Israeli fighter pilot Yoni (Stephen Dorff) is shot down in Beirut and captured by the Palestinians. Fahed's knee jerk hatred for the captive gradually evolves. Eventually, he helps Yoni to escape, inspired by his promise to help Fahed make it across the border on an incredible journey that will return both of them to the place they consider home.
The film itself develops into a road movie as the unlikely duo attempt to evade capture. Screenwriter Nader Rizq needs a few contortions and contrivances to keep them on the road and in each other's company but nothing that stretches credibility to breaking point. He also ensures that the film never softens the reality of the situation too much.
Yoni and Fahed may find common ground and a degree of mutual esteem but the world around them has changed very little and they could still wind up on opposing sides in any bigger conflict.
The long journey home for both characters unfolds against landscapes of natural beauty that makes the bitter, ugly struggle for them all the more ironic. Good humour and confident pacing ensure that the film remains absorbing and entirely accessible. Stephen Dorff is reliably solid as Yoni but the young Abedallah El Akel proves to be a screen natural as Fahed revealing a presence that brings his character vividly to life and conveys the passions of a young, energetic boy taught to hate but learning that the world can be a much more complicated place.
Production Companies: Bedlam Productions, Far Films
International Sales: Pathe International, www.patheinternational.com
Producers: Gareth Unwin, Fred Ritzenberg
Executive producers: Jess Malik, Albert Martinez Smith, Simon Olswang, Jerome Seydoux
Screenplay: Nader Rizq
Cinematography: Dan Lausten
Production designer: Yoel Herzberg
Editor: Herve Schneid
Music: Cyril Morin
Main cast: Stephen Dorff, Abedallah El Akel, Alice Taglioni, Loai Nofi