Dir/scr: Nour-Eddine Lahmari. Morocco. 2012. 111mins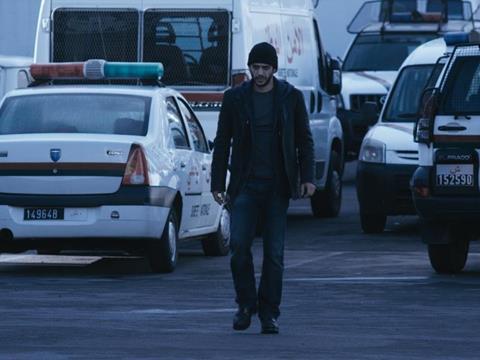 A bold and atmospheric exercise in crime film noir set against the vibrant backdrop of contemporary Casablanca, Nour-Eddine Lahmari's cop drama Zero is a stylish, absorbing and impressively made film, driven by a wonderfully intense performance by Younes Bouab as a troubled cop Amin Bertale, nicknamed 'Zero' by those around him.
Younes Bouab is perfect as he troubled cop, brimming with righteous anger.
The film, which screened at the Dubai International Film Festival, could well intrigue buyers looking for a strongly made North African crime film and should feature in other festivals, especially those with a crime theme. Impressively performed and shot with a good deal of style and sense of location, it is a film that deserves attention.
Something of a lost soul, he is shunned by the heavily corrupt police department, and while pacing the mean streets of Casablanca makes a little money on the side working with Mimi (Zineb Samara), who poses as a prostitute with clients only for Zero to bust them and take money from the men to keep quiet.
Zero is also burdened by his disabled father who he grudgingly looks after – his angry father (Mohamed Majd) rants at his son, wants to smoke dope and lusts after women - but still does his best to tend to his needs. When he takes his father to hospital he meets the sophisticated Dr Kenza Amor (Sonia Okacha Chraibi) who he is attracted to.
When listening to a series of deadbeat complaints while on duty late one night, his life takes a change of direction when he meets a woman who is looking for her 15 year-old daughter who left the countryside and she fears has been corrupted in the big bad city. He sees the woman around the streets handing out flyers and decides to look into the case.
His decision sees him descend into a dark and steamy world of brothels and prostitution and he finds himself under threat from both gangsters and corrupt police, in the form of his police commissioner (Aziz Dadas) who hands out beatings to those who aren't with him.
The story is a familiar one and often used in Hollywood productions, but while writer/director Nour-Eddine Lahmari borrows certain classic film noir elements, he brings to the film a fresh and energetic sense of pacing, strong characters and a real appreciation for the cop-in-turmoil genre. Younes Bouab is perfect as he troubled cop, brimming with righteous anger, and gets better and better as the films spirals into glossy action when Zero makes his play to fight his way into a brothel.
Production company/contact: TIMLIF Productions, pweisbein@timlif.com
Producer: Redouan Bayed
Cinematography: Luca Coassin
Editor: Youssef Mernissi
Music: Richard Horowitz
Main cast: Younes Bouab, Zineb Samara, Mohamed Majd, Sonia Okacha Chraibi, Aziz Dadas, Raouya Fatima Harandi