A visually striking drama set in the world of Florida strip clubs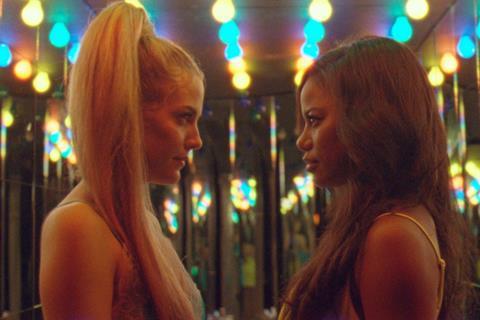 Dir/scr: Janicza Bravo. US. 2019. 87min
An idiosyncratic trip down the rabbit hole of Florida strip clubs and sex work, Zola follows its titular African American protagonist on a strange 48-hour journey to nowhere. While the film has flashes of originality and vision, it's ultimately unsatisfying—more style than substance.
Zola is visually enticing, with an assured sense of composition and place.
But filled with the constant sounds of Twitter and text message alerts, this second feature by rising director-to-watch Janicza Bravo (Lemon) could appeal to younger viewers where Instagrammable moments of surprise and random bursts of humour spread virally. Even so, distributor A24 has of a challenge on their hands with Zola, which is unlikely to repeat the success of some its other tales from the Sunshine State (The Florida Project, Moonlight, Waves).
Zola—or technically @Zola, according to the title credits—is based on a true story, adapted from 144 tweets about the events first posted by a woman named A'ziah King on October 27, 2015. The film's introduction sparkles: When Detroit waitress Zola (fine newcomer Taylour Paige) meets Stefani (Riley Keough), a bubbly young white blond with cornrows, the two are immediately drawn to each other as fellow talents with a penchant for pole-dancing. Soon after, Stefani invites Zola to join her on a road trip to Florida, where she convinces her they'll make a fortune together in the strip-club scene.
But they're not alone in their odyssey. Joined by what turns out to be Stefani's Nigerian pimp (Colman Domingo) along with Stefani's slow, extremely tall boyfriend (Nicholas Braun), Zola increasingly realises that Stefani's intentions were less than honourable. She didn't recruit her to dance; she lured her into prostitution.
Despite the potential seriousness of a film that is ostensibly about sex trafficking, Zola maintains a lighter, more deadpan tone—a choice which could turn off more sensitive viewers. But the decision also keeps the film's stakes one-note; it's only in one surprisingly climactic scene that any of the characters appears are in any actual danger or discomfort. One could praise Bravo and co-writer Jeremy O. Harris for rarely over-sensationalising their material and keeping the strong figure of Zola, for the most part, above the fray of Stefani's sordid world. But by doing so, the main character also remains largely a bystander, which does little to keep us invested in her experience.
There is one scene where, backstage at a strip-club, Zola looks in the mirror and asks herself, "Who are you going to be tonight?" Then Bravo presents a few visions of her protagonist in different sexy outfits, reflected multiple times back in the mirror. It's a rare moment of introspection and reflection for the character, and one wonders what Zola, the film, could have been if it had considered who Zola, the character, really was, or what she wanted to be.
Instead, it relies on some entertaining eccentricities and florid details, and and Stefani's dumb boyfriend and his sad devotion to her provides some of the laughs. "I'm going to kill myself," he says. "Do it," another character whispers in response. It may sound crass, but that is Zola's sense of humour—at times, a kind of amoral comedy that may be only for the most cynical or adolescent.
All that being said, Bravo shows promise as a filmmaker here. Working with up-and-coming cinematographer Ari Wegner (In Fabric), Zola is visually enticing, with an assured sense of composition and place. An ordinary liquor store is transformed into a strange space of symmetrically arranged bottles, and a trashy motel is made all the more lurid with palm-tree-painted walls. Indeed, Zola definitely has flair—but that only goes so far.
Production companies: A24, Killer Films, Ramona Films, Gigi Films
International sales: A24
Producers: Christine Vachon, David Hinojosa, Vince Jolivette, Elizabeth Haggard, Dave Franco, Gia Walsh, Kara Baker
Screenplay: Janicza Bravo, Jeremy O. Harris, As Told By A'Ziah King
Cinematography: Ari Wegner
Production Design: Katie Byron
Editing: Joi McMillon
Music: Mica Levi
Main cast: Taylour Paige, Riley Keough, Nicholas Braun, Colman Domingo