Shield Of Straw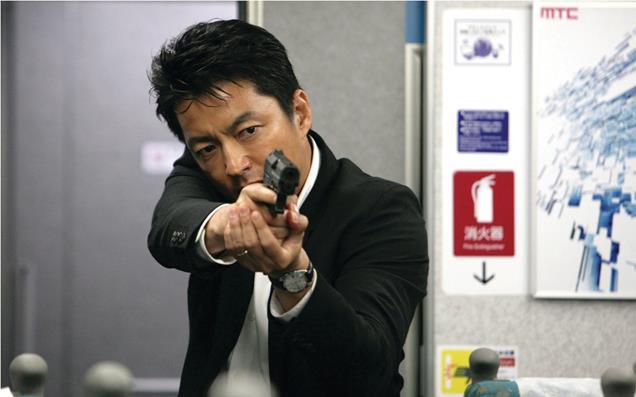 Dir: Takashi Miike. Japan. 2013. 124mins
Prolific Japanese director Takashi Miike shows off his formidable skills at constructing taut suspense sequences in Shield Of Straw (Wara No Tate), but this action-thriller doesn't quite live up to a premise that promises far more. Pitting a few brave police officers against an entire nation wanting to kill the prisoner they're transporting, the movie has its pulpy thrills — not to mention a gripping central performance from Takao Osawa — but plausibility issues and an unconvincing exploration of the limits of justice noticeably dampen the fun.
Fujiwara's one-note portrayal of Kiyomaru reduces him to a garden-variety psychopath, not someone whose repellent evil can get under the skin of those protecting him.
Playing in Cannes' Official Competition, Shield Of Straw might have a wider international profile than other Miike efforts because of its contemporary setting and accessible crime-thriller plot. But the film's B-movie soul might keep it more of a cult item, although Miike aficionados will no doubt be interested.
Based on a novel by Kazuhiro Kiuchi, Shield Of Straw is set in motion by the desperate actions of the wealthy Ninagawa (Tsutomu Yamazaki), who has placed an ad in Japanese newspapers offering a reward of a billion Yen to anyone who kills Kunihide Kiyomaru (Tatsuya Fujiwara), a repeat rapist and murderer whose latest victim is the man's seven year-old granddaughter.
Frightened for his life, Kiyomaru surrenders to local authorities. But because so many citizens want that reward money, including members of law enforcement, an elite team of cops — including haunted Mekari (Osawa) and ambitious young agent Shiraiwa (Nanako Matsushima) — are assigned to escort the suspect from Fukuoka to Tokyo for sentencing, risking their lives to protect this unrepentant psychopath.
The film's high-concept story gives Miike plenty of opportunities early on to build tension. As Mekari and his team quickly learn, anyone they come across on their journey could be secretly trying to assassinate Kiyomaru — and they'll try just about any possible gambit to do it. This leads to memorable sequences that are as large-scale as a confrontation between an armoured caravan and a truck driver with an explosive payload, and ones that are much more intimate, such as a disturbed man holding a knife to a young girl's throat demanding that Kiyomaru be handed over to him.
At first, the story's creeping paranoia makes for fun moments — the team members aren't even sure they can trust each other — but eventually that pleasure gives way to vague disappointment when it becomes clear that Miike hasn't kept a close eye on the small details of his story.
Setting aside the dubious believability of Japan's government allowing a multi-billionaire to offer a reward for a cold-blooded killing, the most glaring plot problem is the filmmaker's reliance on oddly thoughtless actions by Mekari's team to open the door for action sequences. Despite establishing the fact that they must be wary of everyone outside their inner circle, repeatedly Mekari or his cohorts lower their guard, which predictably brings deadly consequences. (Along the same lines, even though they're guarding a dangerous madman, the team occasionally seems rather incompetent in actually keeping an eye on him.)
Adding to these frustrations is Miike's insistence on peppering his action movie with moral questions about the efficacy of revenge. Shield Of Straw aspires to examine what the ethics are for safeguarding the life of a known killer just so that he can get his day in court, a sign of basic human decency that he himself never showed his victims.
No doubt these thematic concerns give Shield Of Straw a little more emotional resonance, but Miike approaches them in a heavy-handed way. It also doesn't help that Fujiwara's one-note portrayal of Kiyomaru reduces him to a garden-variety psychopath, not someone whose repellent evil can get under the skin of those protecting him.
Still, Osawa serves as a strong force for good at the centre of this story. Without revealing his painful past, let it be said that Mekari has legitimate reasons for killing Kiyomaru, and his growing personal struggle to defend this murderer from the lawless mobs humanises the movie's otherwise muddled stab at moral complexity.
Production companies: NTV, Warner Bros. Pictures Japan, OLM, KODANSHA, YTV, Yahoo! JAPAN, East Japan Marketing & Communications, Inc./STV, MMT, SDT, CTV, HTV, FBS
International sales: Celluloid Dreams, www.celluloid-dreams.com
Producers: Naoaki Kitajima, Misako Saka, Shigeji Maeda
Executive producer: Seiji Okuda
Screenplay: Tamio Hayashi, based on the novel by Kazuhiro Kiuchi
Cinematography: Nobuyasu Kita
Production designer: Yuji Hayashida
Editor: Kenji Yamashita
Music: Koji Endo
Main cast: Takao Osawa, Nanako Matsushima, Goro Kishitani, Masatoh Ibu, Kento Nagayama, Kimiko Yo, Tatsuya Fujiwara, Tsutomu Yamazaki