Weekend Of A Champion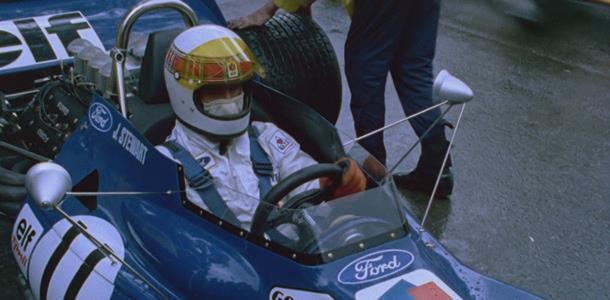 Dir: Frank Simon. France-UK. 2012. 93mins
Two champions - one of the racetrack, one of the big screen - are reunited four decades on in a long-unseen documentary by the late Frank Simon, dusted down and updated with an intriguing coda. The 1971 film originally entitled Jackie Stewart: Weekend Of A Champion - and barely screened since its premiere at the 1972 Berlin Film Festival - featured Roman Polanski following Formula One racing driver Stewart over four days in Monaco, culminating in him winning the Grand Prix.
When the film gives us its up-close racing footage, it's hard not to join in and make "vroom vroom" noises - as an enthusiastic Polanski does in the closing interview.
The new film consists of Simon's original, trimmed by some 30 minutes, followed by an interview between Stewart and Polanski, reunited in Monaco in 2011, talking about Stewart's life and what's changed in his sport over 40 years.
The film is more revealing about Stewart's technique than about either his personality or the inner workings of Monaco and the Formula One world - although, even when he's talking technical, as he mostly does, Stewart's engaging, no-nonsense good humour shines through. But the film, containing some ferociously intense racing footage - plus some precise driving tips from a world-class expert - will be a must-see for lovers of the sport. Non-initiates may not find it as involving as, say, Asif Kapadia's more narratively propelled documentary Senna, but fans will follow it to the last lap, ensuring healthy success on the ancillary circuit above all.
The film begins with the Scottish driver and his wife Helen walking to the track in May 1971, Stewart muttering darkly about prospects of rain. It skips back to the Thursday before Stewart is due to compete for the Grand Prix, driving for team owner Ken Tyrrell. Shooting on 16mm, Simon follows Stewart closely, taking us into the driving seat with him in several sequences - using on-board cameras to shoot over Stewart's shoulder as he drives through heavy rain, or to give us what amounts to a masterclass as Stewart takes Polanski for a spin, explaining in detail how he shifts gears to negotiate the curves of the Monaco track.
Stewart goes into further technical details in interview with Polanski, with whom he has an easy rapport. But some of the most revealing glimpses of a generally relaxed and straight-talking Stewart come as he limbers up for Sunday's drive - whether cheerfully entertaining winners of a British newspaper prize, imparting advice to teammate François Cevert, or running the gamut of autograph hunters.
In the run-up to the race, Stewart gets visibly more tense, especially as he feels his car - reconstructed after a recent crash - is unlikely to deal with wet weather conditions. And there's a revealing, and ominous interview with Helen Stewart before the race, brooding on how many of the couple's friends have been killed in action (Cevert himself would die in 1973). On the Sunday, Stewart goes on to win the race, while his voice-over recorded shortly after the event mulls over his pre-event nerves.
Some of the most revealing material comes in the epilogue, as Polanski and Stewart meet again in the same hotel room seen 40 years earlier. The key material in this relaxed chat concerns the two men's mystification over their earlier hairstyles, and the change in racetrack safety, resulting in a drastic reduction of deaths.
The greatest revelation from the thoughtful Stewart is that for him, climbing into a racing car is like being given an anesthetic: "You lose all relation to grief, pain and emotion." It's a rare moment of self-analysis from a man mostly seen imparting technical wisdom. But when the film gives us its up-close racing footage, it's hard not to join in and make "vroom vroom" noises - as an enthusiastic Polanski does in the closing interview.
Production company: RP Productions, Mark Stewart Productions
International sales: Pathé International
Producer: Roman Polanski
Executive producers: Mark Stewart, Timothy Burrill
Cinematography: Bill Brayne, Pawel Edelman
Editors: Hervé de Luze, Shawn Tracey, Derek York
With: Jackie Stewart, Helen Stewart, Roman Polanski