Dir. Jacques Audiard. Fr / It. 2009. 150 mins.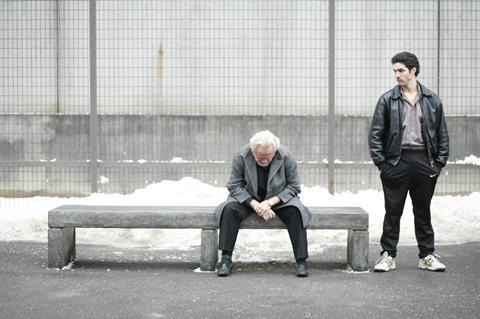 When it comes to hard-bitten crime cinema, Jacques Audiard has few equals in Europe, and his violent, gripping prison drama A Prophet shows him extending his range with unimpeachable command. The story of a gauche young inmate who rises through the criminal ranks to become a formidable player, A Prophet works both as hard-edged, painstaking detailed social realism and as a compelling genre entertainment.
This is a business-like film, with a cinematic language as punchy and stripped-down as they come: only a few stylistic frills break the general tenor
The only thing that might hamper commercial prospects is a labyrinthine, sometimes perplexing narrative, but otherwise the film – to be released in France in August - should have the same international appeal as last year's Cannes crime hit Gomorrah. Its unapologetically testosterone-laden tenor will give the film a resonance way beyond the international art-house constituency that embraced Audiard's last film, The Beat That My Heart Skipped. Expect this stimulating film also to be much discussed in the French media in terms of its topical backgrounds, the national prison system and France's Islamic population.
Set largely within prison walls and featuring an almost exclusively male and non-professional cast, the film details the prison career of Malik el Djebena (newcomer Rahim), a 19-year-old man of North African origin but estranged from the Muslim community.
Sentenced to six years on an unspecified charge, Malik is chosen by Cesar Luciani (Arestrup), feared kingpin of the prison's reigning Corsican gang, to kill a prisoner named Reyeb (Yacoubi) who initially offers Malik drugs in exchange for sex. Malik commits the bloody murder, and – thanks to Luciani's near-total control of the prison's internal workings - gets off scot-free. This makes him a lieutenant in the prison's Corsican gang, initially entrusted only with menial duties and disparaged as an Arab outsider.
Haunted by visions of a ghostly Reyeb, and determined to get on, the illiterate Malik not only learns to read, but teaches himself Corsican, surreptitiously learning the ins and outs of Luciani's business. Another inmate, Ryad (Bencherif), becomes Malik's friend, later his ally on the outside.
When Luciani arranges periods of leave for Malik, entrusting him with various criminal missions, Malik takes the opportunity to do some business of his own, setting up a drugs trade with Ryad's aid. Life gets increasingly dangerous for Malik, both inside and outside prison walls, but he seems – partly through Reyeb's benign, unearthly influence - to lead a charmed life.
Powers of prophecy are attributed to him after surviving a bizarre car crash – an incident presaged in an enigmatic fantasy sequence.
Immensely detailed both in its accounts of prison life and of the politics of organized crime, A Prophet comes across as both a realistic film and a deeply cynical one: it is extremely matter-of-fact in depicting a dog-eat-dog world.
Audiard fans may miss the subtler psychological shadings of his earlier films, as well as some of his more fabulist story-telling tendencies and stylistic flourishes. Shot by Stéphane Fontaine with a brutally restricted iron-and-cement palette, this is a business-like film, with a cinematic language as punchy and stripped-down as they come: only a few stylistic frills (the aforementioned fantasy sequence, a blurry iris-style effect evocative of Malik's claustrophobic existence) break the general tenor, and even the occasional visitations of the dead Reyeb are assimilated perfectly, barely compromising the overall realism.
Chapter titles and captions identifying key characters help us keep a tab on the film's complexities.
Newcomer Tahar Rahim carries an extraordinary weight, on screen practically in every shot, and proves a mesmerising centre to the film, limning Malik as an unformed, seemingly weightless figure at the start, who gradually acquires considerable depth, forging his personality and mind through hard conscious struggle. Rahim's quiet, seemingly artless charisma makes Malik immensely sympathetic, even though this ruthlessly lucid film makes no bones about the amoral lengths he goes to in the name of survival.
A largely unfamiliar cast – very few of them the central-casting plug-uglies usually seem in prison dramas – give the film a flesh-and-blood plausibility, while the weather-beaten Niels Arestrup (who also appeared in Audiard's The Beat…) is formidable and menacing, eventually even vulnerable as the old-guard don.
Production companies
Why Not Productions
Page 114
Chic Films
France 2 Cinema
UGC Images
BIM Distribuzione
International sales
Celluloid Dreams
(33) 1 49 70 03 70
Producer
Martine Cassinelli
Screenplay
Jacques Audiard
Thomas Bidegain
Based on an original screenplay by Abdel Raouf Dafri and Nicolas Peufaillit
Cinematography
Stéphane Fontaine
Editor
Juliette Welfling
Production design
Michel Barthélémy
Music
Alexandre Desplat
Maincast
Tahar Rahim
Niels Arestrup
Adel Bencherif
Reda Kateb
Hichem Yacoubi