Dir: Katy Chang. UAE. 2012. 63mins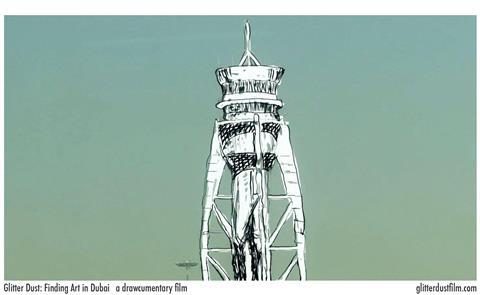 An intriguing examination of how the art world can develop amidst the driving factors of business, money and property in Dubai is nicely presented in Katy Chang's documentary Glitter Dust: Finding Art In Dubai, which cleverly incorporates hard-drawn animations into the more traditional talking-heads footage.
Katy Chang is as interested in the visuals of the city than she is the plight of art in Dubai.
Likely more of interest to festivals dedicated to art and to TV channels with dedicated arts programming, the film does at least have a certain creative energy though suffers to a degree as it comes from a defiantly contemporary art perspective when more historical examination might have made it more rounded. The film had its premiere at the 5th Gulf Film Festival.
The draw-documentary aspect, though, gives the film (which was originally titled Cultural Capital: Finding Art In Dubai) a welcome surrealistic spin. Apparently they were inspired by Katy Chang's doodles in her journal, and are used to give the more clinical documentary filming technique a dash of art and fun.
In fact according to the film's official notes the process also serves to add more to the content of the film. It states: "Free form, playful animation comments on the objective viewpoint of the film and visually disrupt the footage in order to emphasise the dislocation of the city's migrant population." Indeed.
The main point of the film is simple. That Dubai is a new and still-growing city where the main points of interest of are money, property, money, cars, and money. And that despite the vibrancy and cultural ambitions of the city, art – and modern art especially – has a hard job demanding attention.
Certain points are well made. It is wryly noted, for example, that the construction of a Louvre museum on Saadiyat Island near central Abu Dhabi will cost come $1.3 billion, while local artists struggle to find any kind of attention. Interviewees include artists, academics, curators and commentators, and while a few interesting points are made there is a sense that Katy Chang is as interested in the visuals of the city than she is the plight of art in Dubai. To a degree there is a sense is a film still unfinished and it would benefit from more art and fewer talking heads.
Production company: Mer-chan
Sales contact: J.R. Osborn, whosborn@gmail.com
Producer/editor: J.R. Osborn
Cinematography: Katy Chang
Music: Ben Bracken, Ashley Bellouin
Website: www.glitterdustfilm.com